Touch Screen Recommendations
19 Mar 2016 16:59
#71903
by Dale Lusby
I'd like to setup my Mori Seiki with a touch screen during the current retrofit. I've searched and realize some touch screen monitors have issues with Debian. I was looking at some of the Dell touch screens and before I ordered one I wanted to see if anyone knows how I can tell if I'll be able to get it to work with LinuxCNC without too much trouble.
24 Mar 2016 01:00
-
24 Mar 2016 01:01
#72077
by Dale Lusby
I found my touch screen and wanted to post here in case it helps anyone in the future. I purchased a Planar model PT2245PW 22" widescreen touch screen. It is similar to the iPad in that the front of the panel is glass edge to edge. Should make mounting in the control panel a breeze. It looks like it was designed to be used in kiosks so hopefully is up to the task of shop use. I also am glad to say it was plug and play without even needing calibration. Looking forward to having this in the control panel.
www.planar.com/products/desktop-touch-sc...rs/20-inch/pt2245pw/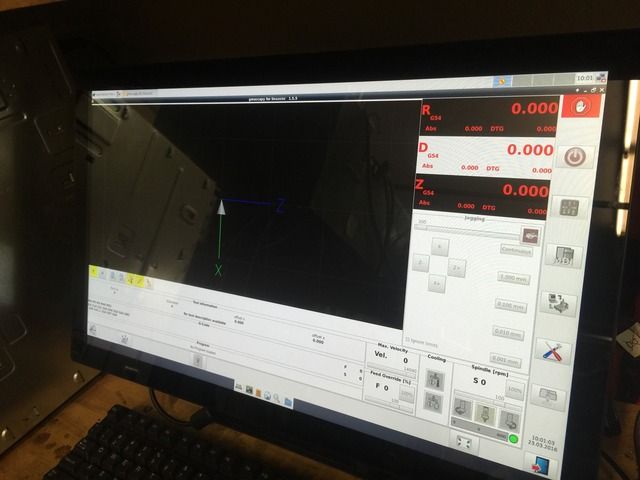 The following user(s) said Thank You:
eman5oh
Gold Boarder
25 Mar 2016 15:29
#72136
by cncnoob1979
Dale,

I like the looks of that touch screen. What distro are you using? Did you use wheezy the install ISO/Linuxcnc?

I'm looking at purchasing a Planar PXL2230MW. I'm hoping it will be plug and play as well. I do plan on installing Linux mint LMDE 2 so it should have the same support.
25 Mar 2016 16:17
#72139
by Dale Lusby
I did use the ISO install from burning the DVD so I do believe it is the wheezy one (a lot of this is newer to me so slowly learning the language - I'll admit I had to look up distro - thank goodness for Wikipedia). I plan on using gmoccapy for the touch screen gui.
I noticed in the manual of the monitor it mentioned Linux so my gamble paid off

Might check there and see if it says same.
I've had some latency issues with the PC it's connected to so finding another to use. I ordered the Asrock H97 and Pentium G3258. Hope it gets some lower numbers.
Expert Boarder
25 Mar 2016 23:50
#72164
by Dale Lusby
I just realized it was hyperlinked. Yes they aren't cheap however I got mine used for $150 in excellent shape.
Expert Boarder
05 Apr 2016 19:19
#72795
by eman5oh
I purchased a Dell S2240T with hopes of using it for my Bridgeport Boss5 retrofit and unfortunately, touch does not work at all with the 2.7.4 iso. It works with Ubuntu 14.4 or under Windows 10 but I could not get it function at all under linux cnc. Maybe in the future it will work but right now it is a no go, so I thought I would share this so others may be warned.
Time to create page: 0.142 seconds