Axis Position Logger
18 May 2016 13:06
-
18 May 2016 13:07
#74810
by BigJohnT
After playing around with the teach-in script I decided to expand on that thought and created a data logger with more options.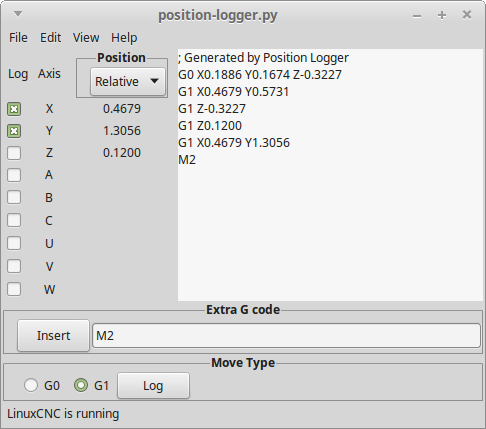 Yet to do is the menu items like Save etc. Anyway I thought I'd share this to see if I get any feedback.
To run make sure postion-logger.py is executable (right click properties) and Axis is running before you start the program.
JT
Last Edit: 18 May 2016 13:07 by
BigJohnT
.
Senior Boarder
19 May 2016 20:52
#74866
by marq_torque
Just amazing Sir,


Loved UI, i tried logging axis values all is good good.... only one question, why its not saving any of file name ? or if its saved somewhere then where ? its not asking for any file name or path no display just lying as it is when i give save or save as.. ??


Thanks & Regards,
Ankit
20 May 2016 10:57
#74873
by BigJohnT
BigJohnT wrote: Yet to do is the menu items like Save etc.
JT
20 May 2016 11:01
-
20 May 2016 13:04
#74874
by BigJohnT
Here is an update with more functions completed. Feedback is welcome.

Edit: final version

JT
Last Edit: 20 May 2016 13:04 by
BigJohnT
. Reason: Add Final Version
Platinum Boarder
23 Aug 2016 19:13
#79330
by tommylight
I have yet to use it, but it is nice to know.
Thank you very much, JT
Fresh Boarder
25 Jan 2017 05:26
#86596
by ronaldinho07
Hello John.
I have a question,if my machine have 6axis (for welding purpose),i just need to config axis ,jog and playback using this axis logger or i have built a completely a kinematics for machine before i can using this logger
.Thankyou
27 Jan 2017 20:21
#86803
by BigJohnT
That depends on the kinematics of your machine, this is simply a position logger for all 9 axes.

JT
Time to create page: 0.144 seconds