Tool.tbl error
06 Sep 2017 09:24
#98570
by absolut15
absolut15 created the topic: Tool.tbl error
hello
i need some help wiith my tool.tbl file please.
when i change the setup of some milling or drilling tools in the tool list on linuxcnc with gmoccapy, then in the file all tools are delete.
and its not at all tool nummers.
a emty file is the result.
thanks
File Attachment:
File Name:
tool.txt
File Size:5 KB
09 Sep 2017 12:21
#98726
by newbynobi
newbynobi replied the topic: Tool.tbl error
Could you explain more in detail, what you did?
I have never had that issue, IMHO either others.

According to your Tool File you are German, same as me, so if it is more convenient for you, just explain in German.

Norbert
11 Sep 2017 05:21
#98815
by absolut15
absolut15 replied the topic: Tool.tbl error
hallo norbert.
dannke für deine antwort. deutsch ist besser für mich.
wenn ich bei manchen werkzeugen eine änderung vornehme (zb 39) dann bekomme ich eine fehlermeldung
und die tool.tbl datei leert sich.
dazu gibts eine fehlermeldung. siehe bild
bei manchen werkzeugen ist es aber so wie immer und es läuft alles wir gewohnt.
ich mache die änderungen jetzt einfach mit dem texeditor direkt in der file so geht es auch, nur umständlich.
vielleicht kannst du mir ja helfen.
danke im voraus
und danke auch für deine tolle arbeit mit gmoccapy , das war für linuxcnc sehr wichtig meiner meinung.
dazu noch mit nativecam unschlagbar.
lg
florian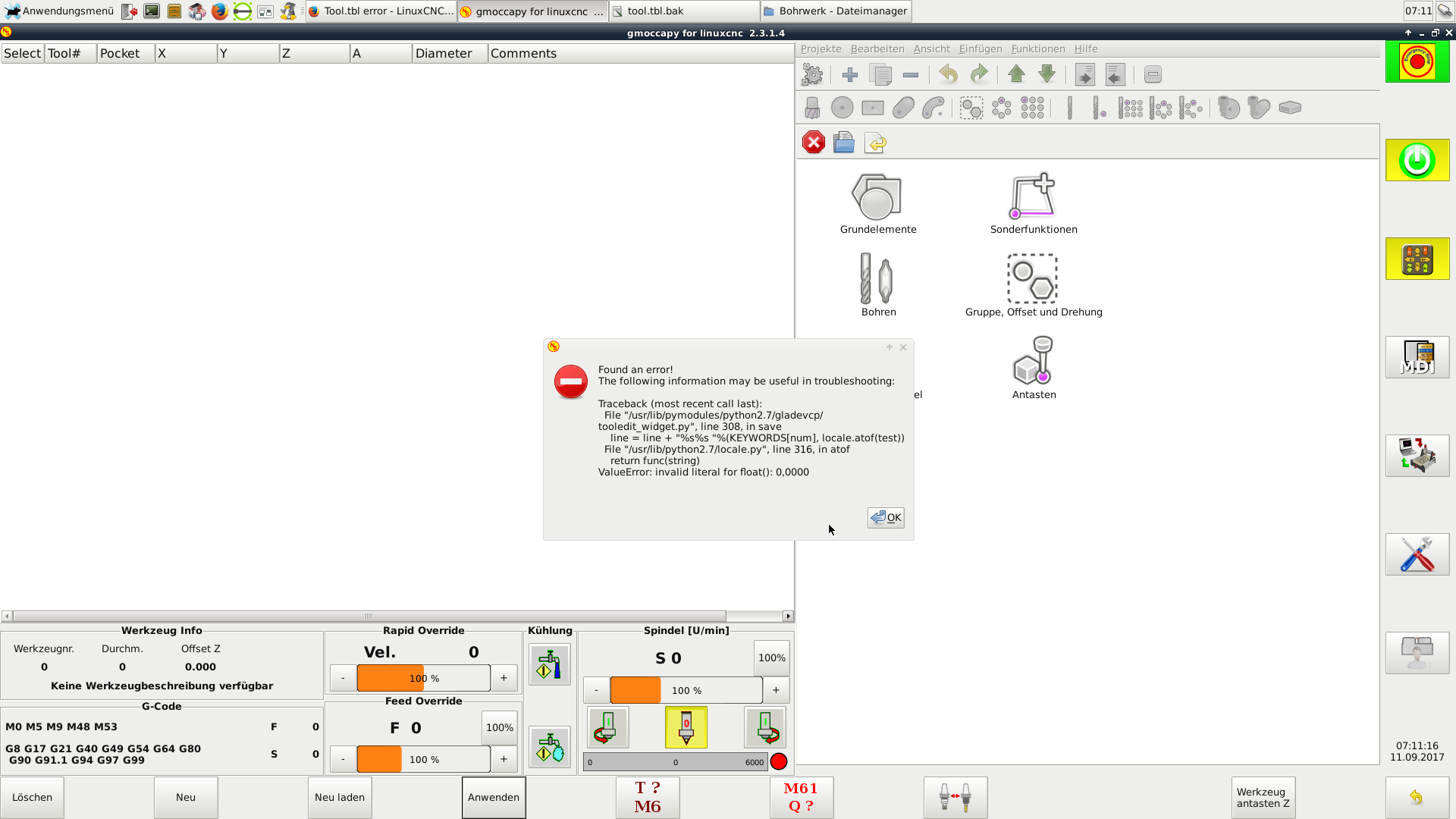 12 Sep 2017 08:01
-
12 Sep 2017 08:02
#98864
by newbynobi
newbynobi replied the topic: Tool.tbl error
Hallo Florian,

ich habe das mal mit Deinem Toolfile getestet. Bei mir tritt kein Fehler auf, ich habe diverse Werkzeuge im Durchmesser und in den Längen modifiziert, alles OK hier. Ich arbeite mit master, so wie du auch. ich habe hier Debian jessie mit Chinamon am laufen, was nimmst du?

Norbert

halo florian,

i just tested with your tool file and i am not able to reproduce the errors you show. I did change various tools in diameter and length, all OK on this side. I tested with master, as you do use that too. I am using Debian jessie with Chinamon, what do you use?

Norbert

P.S. Ih habe bemerkt, dass ich das Komma des Nummernblockes nicht mehr verwenden kann, sondern den Punkt als Dezimaltrennzeichen verwenden musste.

P.S. I found that i am not able to use the German Keypad Deciman separator "," , I needed to use the dot.
13 Sep 2017 06:28
#98913
by absolut15
absolut15 replied the topic: Tool.tbl error
hi norbert


ich verwende das wheezy mit xfce ...also die ganz normale image die man runterladen kann.

das witzige ist auch das dieses problem erst vor kurzen aufgetreten ist, und es vorher nie probleme gegeben hat.

vielleicht soll ich einfach verssuchen linuxcnc und linuxcnc-dev zu deinstalieren und dann nochmal neu zu installieren?

lg florian
Time to create page: 0.074 seconds