MELSERVO Help, Replacing Sony MILLSTATION
10 May 2016 12:40
#74440
by DesignBC
Let me begin by saying that I am a toolmaker, not an engineer. I have done a decent amount of research on my system, but there are a couple answers that elude me. I am using MELSEVO J2 amps and I am unclear as to what the minimum necessary connections are to operate these servos. I am sure I will run into other questions as I progress, but this would clear a decent sized portion of the path for me. So if anyone is familiar with the MELSERVO setup (my diagram uses speed mode) I would really appreciate a bit of guidance. Thank you.
11 May 2016 19:53
#74525
by andypugh
One thing that isn't clear is if the encoders pins on CN1A are outputs for the controller or inputs to the drive.
I suspect that they are outputs, does that fit with the way that the motor connects?

It looks like the drives can operate in fixed-speed mode or analogue speed control mode, so some of the pins will not be needed.
I can't tell if analogue control mode is +/- 10V for speed and direction or 0-10V for speed and the direction controlled by the direction inputs.
11 May 2016 20:28
-
11 May 2016 20:29
#74529
by DesignBC
You are correct, they are outputs to the controller. As far as the control that is where I am a bit stumped as well. My intention is to run with step/dir, which was Mesa's recommendation when I showed them my hardware. I hate to ask anyone to weed through the whole manual, so I included the wiring diagram for the amp with hopes that would be all you might need, if not here is the link to the manual if you are interested in having a look.
MRJ2A
Thank you for having a look, hopefully Im not too far over my head.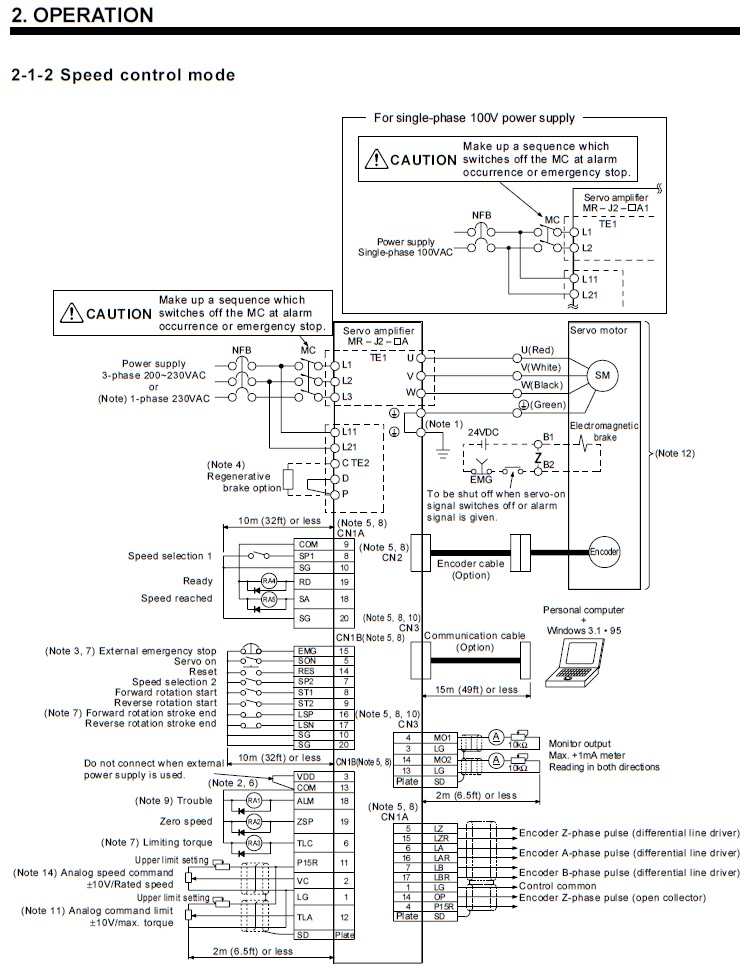 Last Edit: 11 May 2016 20:29 by
DesignBC
.
11 May 2016 20:55
#74530
by Todd Zuercher
I think if you want to control the drives with step/dir signals, you may be looking at the wrong page in the manual. Can you look to see and show us the diagrams for Position Control (rather than Speed Control)?
12 May 2016 14:01
#74551
by Todd Zuercher
I think the pages you want to look at are pg.2-4 and pgs.3-20,21 for how to connect your step/dir signals. Those would be pins 3&13 for the step and 2&12 for the direction on connector CN1A. Those would connect to pins 11&12 and 13&14 on TB2 on your 7i85S card for the first axis. Don't forget the 5v, ground, and enable signals for the axis as well. You also need to be sure the parameters for the drive are set properly for the type of input you use.
The following user(s) said Thank You:
DesignBC
12 May 2016 16:50
#74560
by DesignBC
So is there a better way to control this amp with the 7I85 without using step/dir? I was under the impression that velocity mode was ideal, and when I contacted MESA with my info they suggested using the step/dir input. If this is as good a way as any for a knee mill, or just a simpler method for a noob to get this chunk of iron running until I am knowledgeable enough to upgrade properly, thats fine too.

Either way, I will begin researching the method you supplied and see where I get, thank you for your help, looking forward to showing this puppy off when I get her finished. Have an awesome day.
12 May 2016 17:31
#74562
by Todd Zuercher
Step/Dir, CW/CCW (up/down), or Quadrature (like an encoder) are pretty much your only options with the 7i85S. All of which should work equally well, and would even use the same wiring schemes. If you have the 7i85 (the lack of an S is important) you might be out of luck entirely (it has smart serial connections instead of step/dir). The only other way would be to use an analog command, with a 7i77 card. That might actually be a better option, but is a more expecive card (and you don't have one).
12 May 2016 17:45
#74563
by Todd Zuercher
As to what would be the simplest way, probably depends on how the old control was connected. If the old system used step/dir, that that will be simpler. If the old was an analog velocity command, that will be the easy way. If you change the command input, you are going to have to reconfigure and retune the servodrives using their software... If you don't make those kind of big changes, than tuning should be minimal (or not at all in the case of digital position contorl).
The following user(s) said Thank You:
DesignBC
Time to create page: 0.164 seconds