Probe Screen ?
28 Nov 2017 15:42
#102437
by Mech john
Hi,
is anyone using the probe screen by the russian guy, 'verser' with gmocappy? All working? Any problems? It seems to have stopped working with latest linuxcnc version, I think it might be a glade problem but I have no experience with this really...

cheers, john
Fresh Boarder
29 Nov 2017 09:47
#102473
by chrisfairbrother
Hi John, I have checked the probe cylinder this morning, all ok.
I am using gmoccappy 1.5.8 debian 7.11 linuxcnc 2.7.11
I hop this helps
Chris
29 Nov 2017 13:59
#102478
by Mech john
Hi Chris,
I am using linuxcnc current master 2.8. All was working fine with 2.7.11
After upgrade it does not work any more.

many thanks,
john
Fresh Boarder
29 Nov 2017 18:26
#102498
by chrisfairbrother
Hi John, I don't use 2.8 so I cannot assist you as to why this is not working. I only have a production machine so I cannot risk using 2.8 at the moment. The only suggestion I have is to search for
"how to downgrade from 2.8.0 to 2.7.x? " In this forum. Unless anyone else is using 2.8 with the probe screen.
Sorry I cannot be more helpful.
Chris
29 Nov 2017 22:40
-
29 Nov 2017 22:46
#102514
by newbynobi
Give me a view days, i will check on this with gmoccapy, even if it seems not to work with axis eather.
Unfortunately i have no probe, so my test may be limited, or do someone like to sponsor some hardware ? ☺

May be I even rewrite the code, as i saw potential to optimize.

I will test with the latest master and report.

Norbert

P.S. does anyone know, if the icons are open source?
29 Nov 2017 23:44
#102515
by Mech john
Hi Norbert,
there may be a spare probe sitting around gathering dust. Ask Rene-dev

This evening there was some small action on irc. I think maybe a bug was found in probe_screen.py, line 413, def gcode is wher the problem appears to be coming from, user 'hazzy' knows more and is trying to fix this now..
cheers,
John (aus Münster) lol..
02 Dec 2017 14:38
-
02 Dec 2017 14:41
#102597
by newbynobi
I just tested with brand new master and gmoccapy 2.3.3 and it does work with gmoccapy!!
Find attached my config directory for simulated application.
To test set: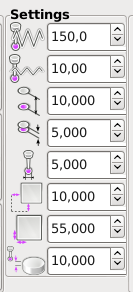 and push the probe button

while the vel changed to 150 and a second time the vel changed to 10.
(Just push, do not hold down, as this is a mometary switch to simulate probe contact.
Norbert
21 Jan 2018 21:19
#104817
by gernoff
Would you be willing to do a brief writeup of specifically how to install probe under gmocapy.
22 Jan 2018 16:41
#104850
by newbynobi
One thread above I added my sim config, just take that one as example.

Norbert
Time to create page: 0.114 seconds