Bridgeport Boss5 stepper to servo
01 Jan 2016 05:17
#67637
by Duc
Duc replied the topic: Bridgeport Boss5 stepper to servo
Had to finish up the pulleys for the Y-axis and Z-axis but really needed a break from tuning.
X-axis
Reason why I cant change the pulley ratio on the X-axis. No dam room but I can buy a servo gearbox later on.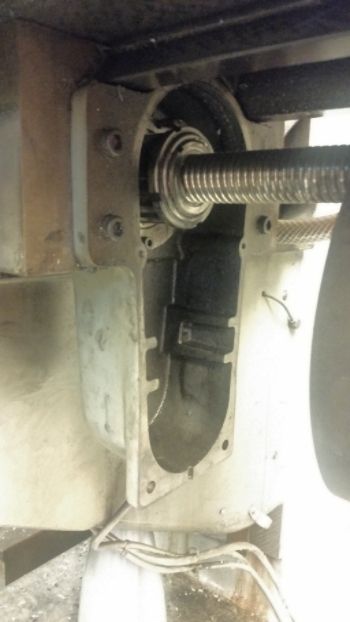 Finished very similar to the Y-axis for the tig welding on the pulley adapter.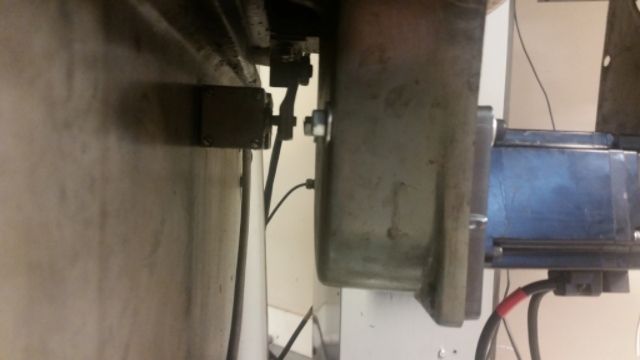 Z-axis.
Turned the boss off the Z-axis pulley.
Fit like a champ
12 Apr 2016 02:37
-
12 Apr 2016 02:48
#73139
by Duc
Duc replied the topic: Bridgeport Boss5 stepper to servo
Forgot to finish the thread but the Yaskawa AC servos are working out excellent on the mill.
Got a urge to start setting up a 4th axis before I have a project need. No desire for a cheap unit that would only frustrate me or crap out later on. All Chinese and converted super spacers were off the table. I wanted at minimum a HAAS rotary but really wanted to justify a rotary in the Nikken, Tsudakoma, etc class of tables. We have a ton of Tsudakoma tables at work so I could use that as a way into tech support if needed. Ebay has alot of used rotary tables but difficult to weed thru the units unless you have a idea of what you want. Next was selecting a size that would fit on my bridgeport mill and not take up all the knee travel and weight limit. I was looking for a 160mm table but in the end I settled with a 200mm table.
Turns out a lot of people will take about 1/5 ebay price when you actually offer them money. Got this table for $1200 delivered to work with the tail support and hydraulic booster for the unit.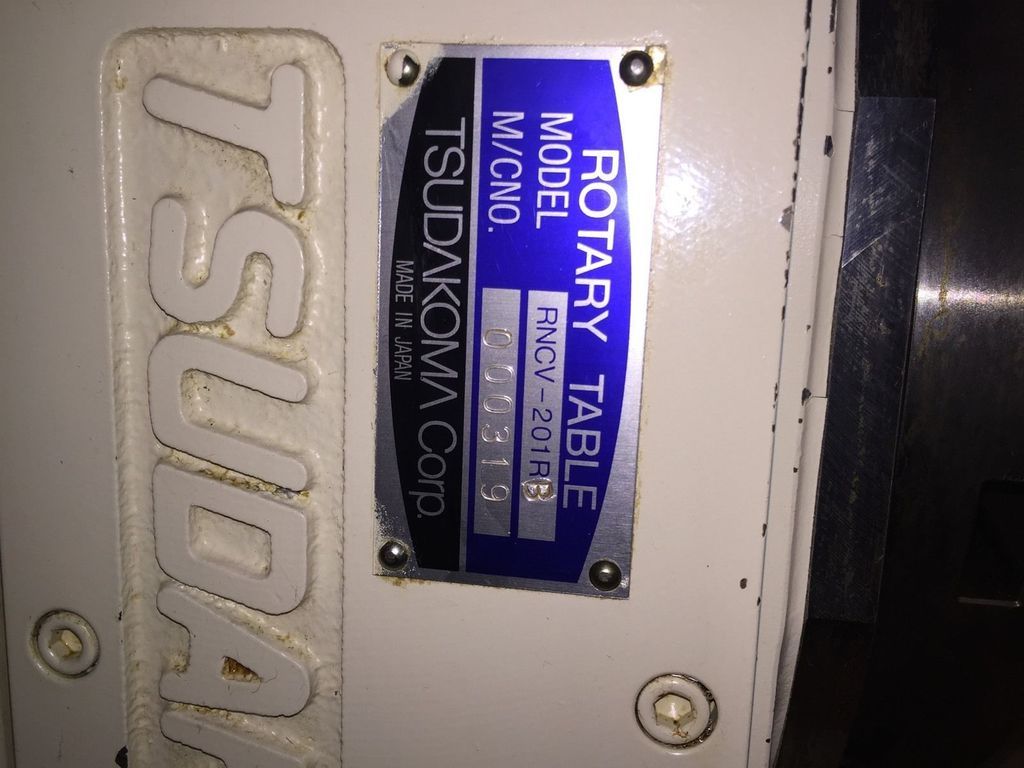 Once I got the unit home I was like a child at Christmas, Must open unit to see what I bought!!!!
Surprise surprise, the rotary had a Yaskawa SGMG-09A2ADS AC servo motor and not a DC servo motor like I was expecting.
Switches for the hydraulic brake indicator. Dual switch setup.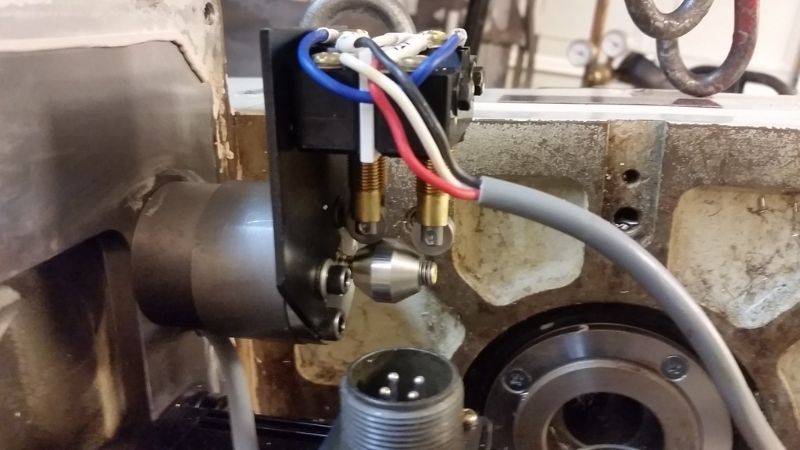 Last Edit: 12 Apr 2016 02:48 by
Duc
.
12 Apr 2016 03:17
#73141
by Duc
Duc replied the topic: Bridgeport Boss5 stepper to servo
Also opened up the covers to inspect the worm gear a bit and the motor gears. Dam near looked new. Beginning to think this had low hours and the job went under or the business did.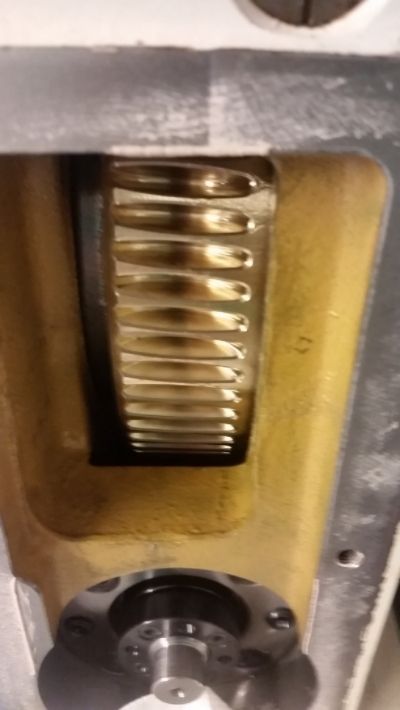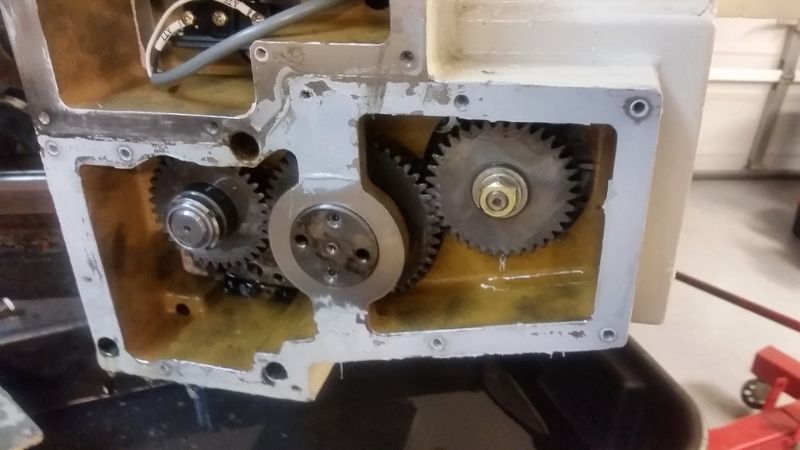 Now that I had a idea of what was in the rotary table, I could start researching interfacing the motor to my system.
Motor spec
Yaskawa SGMG-09A2ADS
850 Watt AC servo motor
8192 P/R incremental encoder
Sigma class of motors
At this point I would have loved to use a Sigma5 drive but all data points to that being a losing battle. According to Yaskawa website I need a SGDB-10ADG servo drive for this motor. I found a few on ebay but nobody was taking the low ball offers but manage to find a bid auction for 3 of them. I won one of them at $216 but others went for less than $200. One company was bidding against me for the units. Still cheap compared to normal prices.
Cables
I couldn't find shit for Tsudakoma cables on ebay and I didn't dare call the company for some. End connectors alone retail for $200 each. I did find the end connectors for $20 each on ebay and a 4 pack of 12ft supertrex cables (10 wire -16Ga) for $35.
MS3106F20-29S (encoder plug)
and
MS3102R28-11S, MR06-28-11P-A66-A106 (Motor power and I/O)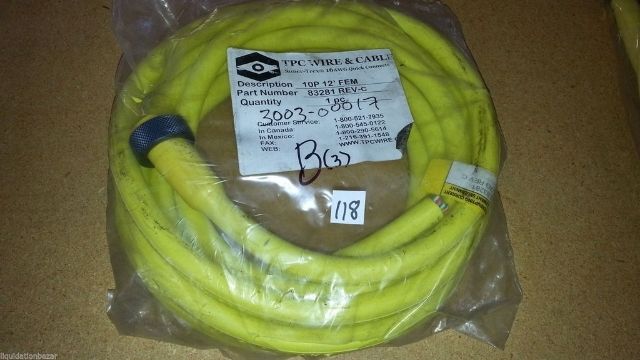 Had to switch the rotary power plug to a female to match what I could find on ebay.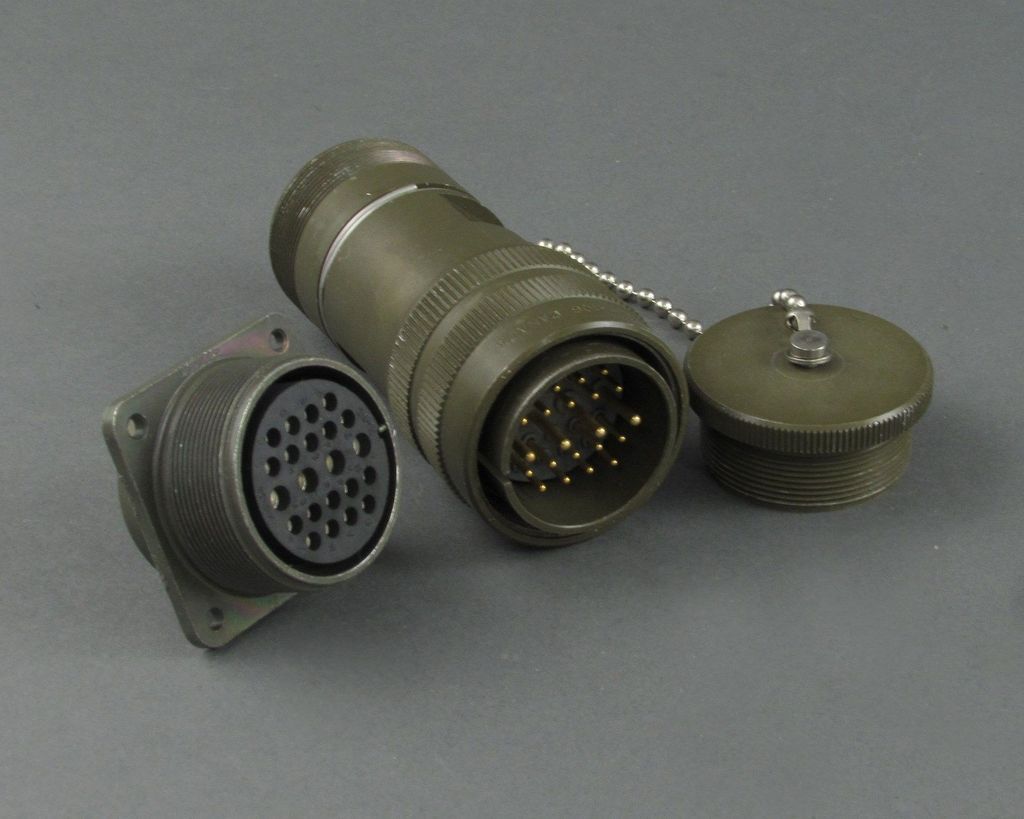 Original plug
26 Feb 2018 18:59
#106546
by Duc
Duc replied the topic: Bridgeport Boss5 stepper to servo
Might have sometime to fix that this week.


Also the machine will be for sell sometime this week. Decided to step up to a bigger VMC and no extra room in garage to keep the unit.
The following user(s) said Thank You:
vista_joe
26 Feb 2018 20:42
-
26 Feb 2018 20:48
#106562
by vista_joe
vista_joe replied the topic: Bridgeport Boss5 stepper to servo
I would really appreciate that. I have been looking at the text but pictures are worth.... I also found your thread on the control panel interesting - hopefully you can fix that at the same time. Photobucket's changes really messed up many people...

I have a Boss5 that was converted to run mach3 by a previous owner. It uses the original steppers with gecko drives.
It also has a servo 4th axis and a VFD for the spindle. I plan to add many things that were not included in the original conversion (spindle control from mach3, stepper or servo for the knee to accommodate tool length changes - too little z axis now, encoder on the spindle for rigid tapping etc...)
Last Edit: 26 Feb 2018 20:48 by
vista_joe
. Reason: clarification
27 Feb 2018 05:25
#106601
by vista_joe
vista_joe replied the topic: Bridgeport Boss5 stepper to servo
Great! I searched for the hotlink fix addon and found a firefox version as well.
It now shows the images -

I'm sorry to hear that you are moving away from the Boss5 but you do what you have to do.

Thanks,
Joe
Time to create page: 0.083 seconds