deckel fp4ma retrofit
12 Dec 2016 18:25
#83960
by ROG
Ok that looks like a Grundig Dialog 4 so its all going to be very different to my FP2 and Heidenhain control.
Can we assume that it doesn't power up ... no display ... lights etc?
"by the way is there any way to bypass the "nc ready" and start the drivers?"
Yes – but the only why of doing that is going to be to connect an enable signal, or whatever the drive expects to see. There should be fairly obvious high voltage connections, to the transformer and the motors etc and then separate to that, the logic / control side. On the logic / control side you need to identify what's connected by a process of elimination. 6 of the connections will be the +/-10V. Then Ov ... 24v etc. I would look in the back of my cabinet but I can't get to it at the moment.
If you look at page 9 of "Blue to Red - Part 2-optimized.pdf" that Andy sent you, that's a wring diagram for my FP2. Yours might be different but it might help. You need to try and trace some of the wiring to the drive ignoring the motor, tacho and power connections. See how many things are connected and try to work out what's what from there.
If the Dialog control powers up, it may be worth looking at the contractor that isn't working as that might be stopping the drive enable. If you can get past that, then it would make life easier trying to work out what the drive enable signals are by looking at changes with meter.
15 Dec 2016 12:51
-
15 Dec 2016 12:52
#84158
by bahrabadi
sorry for the delay but i was busy with my classes.about the motors,i took some pictures and i turned the machine on.but it seemes nothing could start the dirvers.there was no sensor for door or anything else.I am looking for a way to start the drivers despite all the other interlocks.I mean connect it directly to power line or so.I want to be sure that drivers are ok and then move on to next level .otherwise i should replace the drives with new and beter ones that could take step/direction pulses.and about the motors;what kind of encoder they use?and what is two cylindrecal shapes do?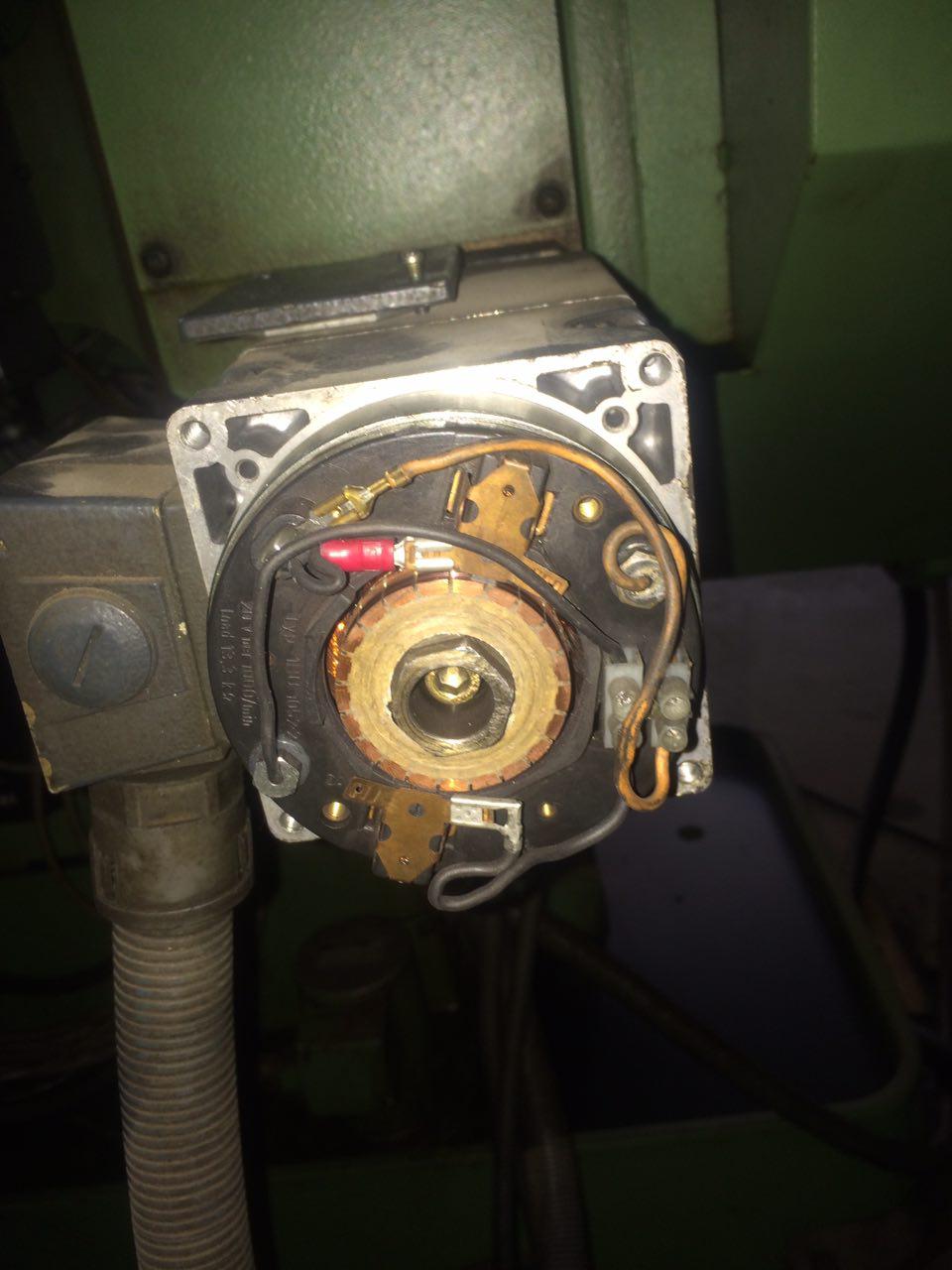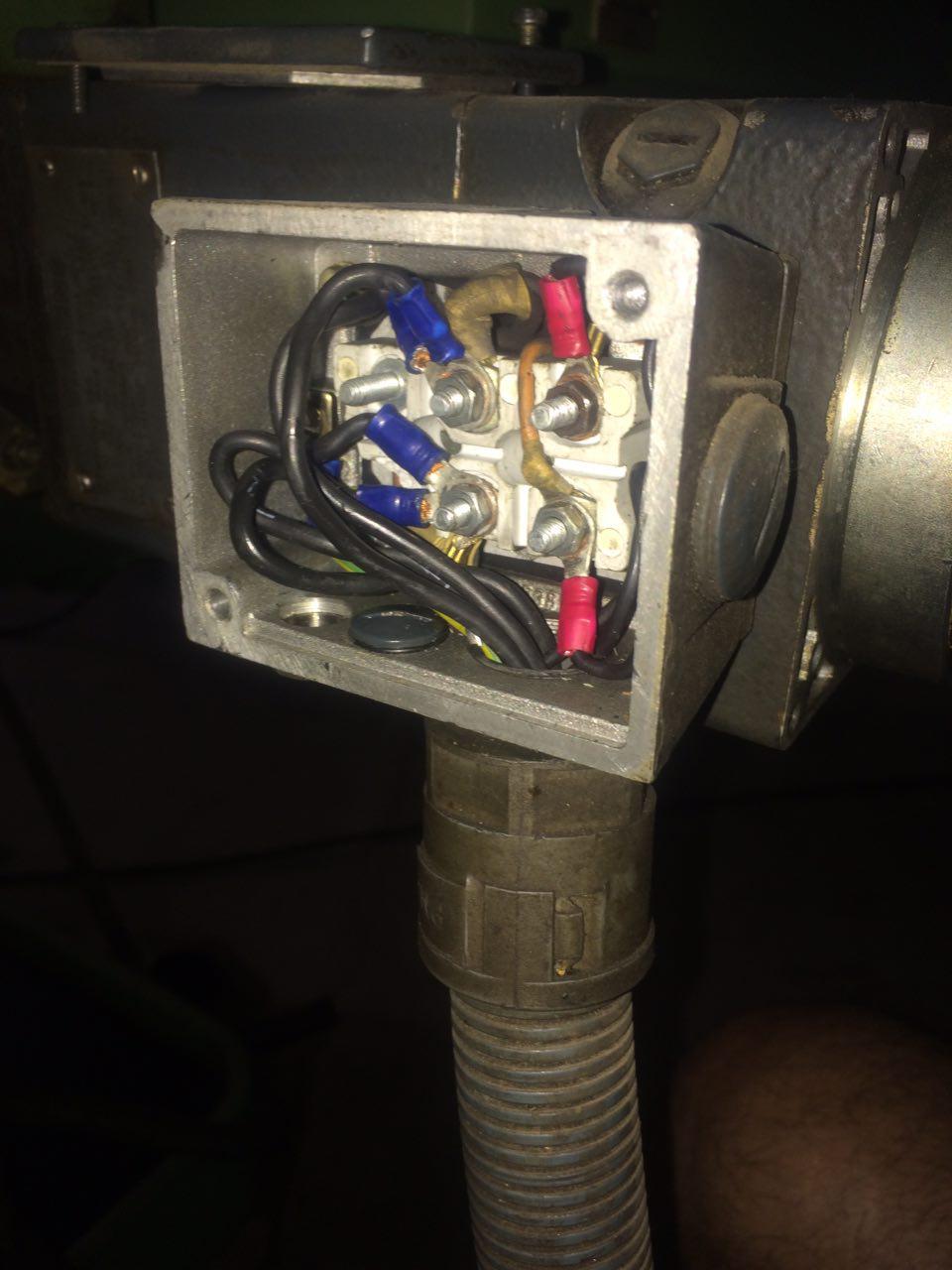 15 Dec 2016 14:34
#84165
by andypugh
Drives that take step/dir are not necessarily better, and would be rather hard to integrate into your machine, where there are no encoders on the motors.

Your system has DC servos with tachometers. A +/- 10V analogue control signal into the drive is interpreted as a motor speed request. The tachometer on the motor is motor speed feedback, and is used to close a velocity feedback loop.

The controller reads the glass scales on the machine slides and from that it knows the current position. It then sends velocity commands to the drives to control the position loop.

A step-dir drive needs position feedback from the motor, almost always from an encoder on the motor.

The current system of velocity-mode drives and direct position feedback from the machine slides is just about the best system available. It would be a retrograde step to change that.

The drives will have interlock/enable inputs. You will just have to study the wiring diagrams until you work out which they are.

Can you confirm that you received the wiring diagrams?
15 Dec 2016 15:14
#84171
by bahrabadi
well i got those wiring diagrams but i didn't learn much becuase I'm a manufacturing engineer and not very good with electrical diagrams.the reason I want to have step ond direction is that it is make sence to me.nevertheless is it possible to use 5i25 and 7i77 in this machine ?if not is there any other options?
15 Dec 2016 15:30
#84174
by ROG
The Cylindrical objects are motors to change the spindle gear ratio, so nothing to concern yourself with at the moment.
The control seems to be reading at least 2 of your 3 LINEAR encoders.
Something is preventing the control from enabling the drive. You mentioned a damaged contactor.
It will be there for a reason so that might be a good place to look as it may well be preventing the control form enabling the drive, along with everything else.
I don't know what the start up sequence is for the dialog control.
There should be an initial power on and then when its on, it will want to reference (home) all the axis. If the Dialog control is "waking up" and reading the encoders, it suggests that fundamentally there is nothing wrong with the control itself, it just isn't seeing the right conditions to enable the drive and allow axis movement. Do you get any error message on the control display?
I would have thought that it would tell you what it wasn't happy about?
There isn't something daft like any of the E-stop buttons locked in the E-stop position? worth checking. I myself have fallen for that one and indulged in a 4 hour multi meter fault finding mission to find out that the night before id inadvertently bumped into a remote e-stop mushroom . (AP - yes ... Peroni related!)
You have two choices. Find out why the control wont enable the drive, or work out what it needs to manually enable it with a 24V connection.
There could even be a switch on procedure for the control that you're not following. have a look at the flip over cards and see if that sheds any light on things.
There should be a lot of clunking going on in the cabinet when you try to enable the control, as it operates various contactors.......
There may even be an E-stop signal running through the damaged contactor, in which case it will never enable. If any of the wires on the broken contactor are red, that would indicate to me that its part of the E-stop loop. From memory, the only red wires in my cabinet relate to the e-stop loop.
15 Dec 2016 15:38
-
15 Dec 2016 15:40
#84177
by bahrabadi
well about estop.when i press one of them i hear a vivid sound of a contactor that become unactive and when i release emergency button the contactor become active again.i forgot to tell you i repaired the contactor.my main concern is to replace the controller becuase lets say if it can be fixed ;what good it will do?an old controller that couldnt accept gcodes from cam softwares.my goal is to make sure my drivers are ok then searching for a way to use mach3 or linuxcnc as a controller
15 Dec 2016 15:40
#84178
by andypugh
ROG wrote: The control seems to be reading at least 2 of your 3 LINEAR encoders.
If you pull / push the machine in the Y direction do you see movement on the Y position readout? You only need to move it a few microns.
15 Dec 2016 15:43
#84181
by andypugh
bahrabadi wrote: .my main concern is to replace the controller becuase lets say if it can be fixed ;what good it will do?an old controller that couldnt accept gcodes from cam softwares.my goal is to make sure my drivers are ok then searching for a way to use mach3 or linuxcnc as a controller
The point of getting the original controller to work is to prove that all the other parts of the machine work. It is much easier to change the controller when youa re certain that the rest of the machine is at least capable of working.
The original controller does use g-code, it probably can be used with your CAM system.
15 Dec 2016 15:49
-
15 Dec 2016 15:49
#84183
by bahrabadi
actully my machine has handels for manual movement and when i rotate the handle the positios of x and y and z axis change.it means the encoders are ok.about gcodes,is there any way to send gcodes to machine becuase there is no port to transfer gcodes.well except a 25 pin printer port in the bottom of machine.does it do the job?
Time to create page: 0.272 seconds