deckel fp4ma retrofit
15 Dec 2016 17:48
#84208
by ROG
ROG replied the topic: deckel fp4ma retrofit
The last picture is the wiring we are interested in. Don't concern yourself with the other.
It looks the same as I have on my FP2. The screened twisted pair cables are likely to be the
+/-10v but you have 4 of them. With two conductors in two and 3 conductors in the other two. The blue wires are signals of which one should be the enable.
I will try to get into the back of my cabinet and have a look at how mine is wired. I had to tee into the enable to for an enable signal for my 4th axis drive. I can also meter the others connections and see what I have when the machine is fully operation or just in standby. The bad news is I won't be able to do this until the weekend.
Platinum Boarder
15 Apr 2017 09:52
#91401
by tommylight
tommylight replied the topic: deckel fp4ma retrofit
That is the signal that goes out, not in to the drives. I will have to read from the begining as i do not recal what was going on.
I also do not understand why would you pull all the drives out if you have to test them?
What am i missing?
15 Apr 2017 10:06
-
15 Apr 2017 10:11
#91405
by bahrabadi
bahrabadi replied the topic: deckel fp4ma retrofit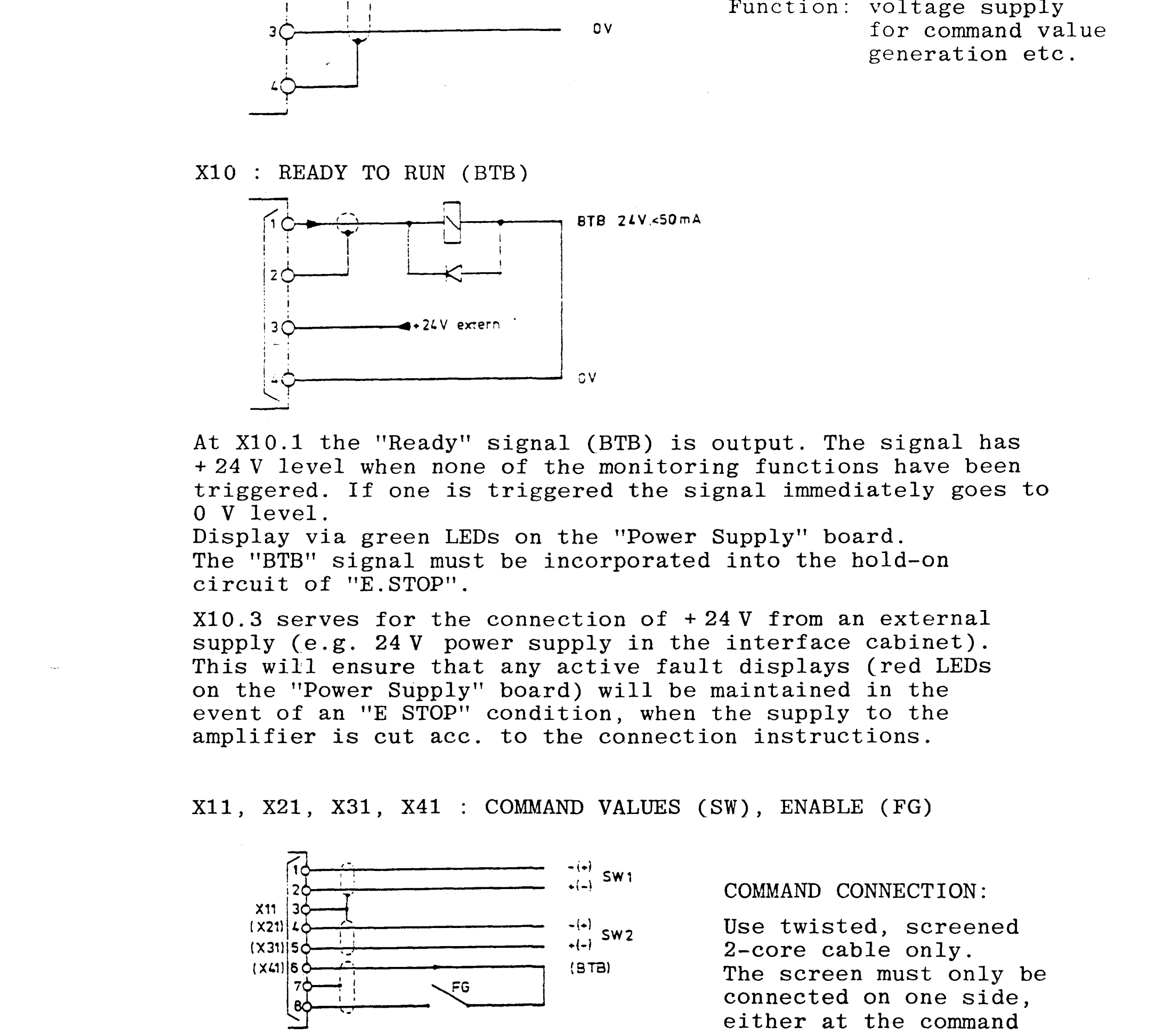 well someone suggested that when pulling the drives out;if the red led is still on then it is high likely would be power supply (or 035038) board problem.this is the diagram and the picture before it is my drive wires.what did i do wrong?is there any way to make sure that the drive is ok?
Platinum Boarder
16 Apr 2017 01:36
#91437
by tommylight
tommylight replied the topic: deckel fp4ma retrofit
Question : did you power the thing with the drives in place? What happens ?
Put the drives back in place, power it up, find the FG switches or wire them directly, ONLY one by one, get one of those dead batteries or a multimeter, disconnect the SW1 and SW2 wires AFTER you write down how they are connected in order, withe the FG closed connect the multimeter leads to the SW1 pins on the drive shortly ( multimeter has to be set at OHM or KOHM ), does the motor move or make noise? Touch the SW1 ( or SW2 if SW1 does not work ) very shortly as the motors should run in one direction at 1/3 full speed if the multimeter is at OHM, it will run even if the breaks are engaged, so be careful.
You should also read the tutorial about servo tuning on the advanced section of this forum as it has a lot of details about testing the drives and the procedure to wire them to Mesa 7i77.
NEVER connect everything and power the machine, one by one ONLY. Until you get things working properly.
Time to create page: 0.340 seconds