StepConfig will only run the X axis
02 Jul 2017 14:20
#95277
by Keith R
Keith R created the topic: StepConfig will only run the X axis
Hi All,
I'm building a 4 axis hot wire foam cutter and I tried running Linux CNC on my XP machine with a parallel port break-out board and 4 stepper controllers based on the TB6600 chips. I have only one side of the mechanism built with X and Y axes so far. I tested it initially with a simple Windows program called Jedicut and both axes run both ways. I then ran Linux CNC from a boot CD and set up my machine on StepConfig. It works nicely and is easy to get all of the parameters set, but only the X-axis works. I have set the pins from the parallel port to the correct numbers on the breakout board and even tried other combinations, but nothing seems to help. I would really appreciate some help please. Thanks in advance.

Keith R
04 Jul 2017 05:08
#95342
by Keith R
Keith R replied the topic: StepConfig will only run the X axis
Thanks Nicola, I checked all that, but I did not enable the home or limit switches etc. I am embarrassed to admit that I put the step and dir wires the wrong way around on the Y axis. I should get some wire with more colours! It's working now and I am trying to get the two axes to move the right distance. I'm using TB 6600 stepper drivers on Nema 17 motors and I read the Linux Cnc manual a bit better now, so I think (?) that I have it figured out now. I will see today. I still need to understand how to set the steps and micro steps with the software. There were no instructions with the stepper drivers, so I did a lot of searching on the net.There is still a lot to learn but it is rather exciting.
05 Jul 2017 18:05
-
05 Jul 2017 18:07
#95405
by andypugh
andypugh replied the topic: StepConfig will only run the X axis
Are you aware that the Axis GUI has a special mode for hot-wire foam cutters?
It does not seem to be particularly well documented but there is a config you can just try out (it won't try to move hardware) in the samples under sim/axis/foam.
The "magic" is in the
[DISPLAY] section
of the INI.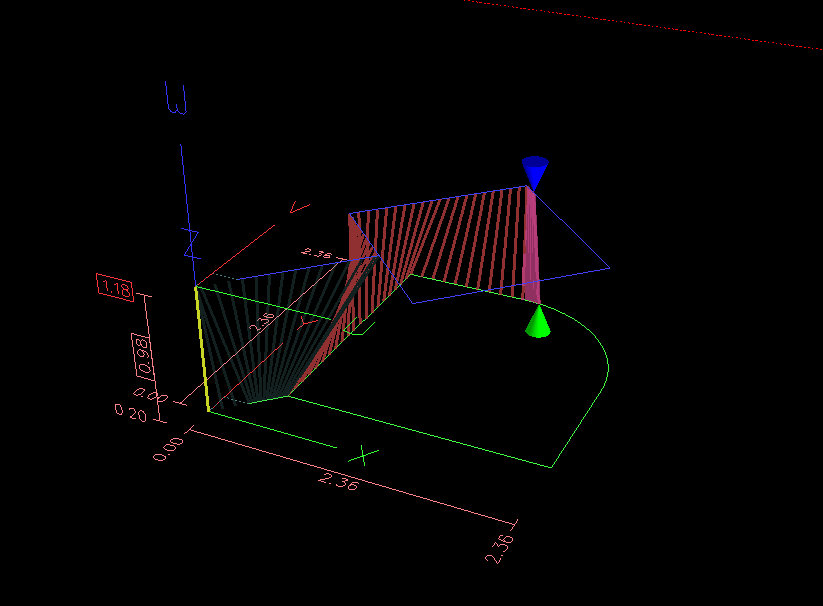 Last Edit: 05 Jul 2017 18:07 by
andypugh
.
05 Jul 2017 18:35
#95408
by Keith R
Keith R replied the topic: StepConfig will only run the X axis
Thanks Andy, I'll have a good look at that. I did get the stepper drivers sorted out more or less and the first half of the mechanism is now working o.k. and I'm building the remaining half. I was looking for a nice tutorial on Youtube but there does not seem to be any, although a few are using Linux cnc for foam wings.It is an incredibly powerful program and I know that it will do the job.............if I can figure it all out!

Keith R
Time to create page: 0.129 seconds