Light Machine Corp. Benchman XTr (retrofit)
17 Oct 2015 05:30
#63854
by steve_a
MacGalempsy, Thanks for the good information about the Tormach tool holders. I am not there yet but I hope to eventually populate the tool carriage.
I have done some close inspections of the unit and a few voltage checks. As I suspected, the computer cannot initialize the motion controller card. I suspect it is bad. When I got power and air I attempted to raise and lower the tool carousel with the front panel buttons. It did not work. I could manually push the pneumatic solenoid buttons and that operated the lift to the down position. I received an email from intelitek and the support agent indicated that there needed to be communication with the motion control card before the front buttons would work. Can anyone verify that?
Other than that I believe the unit has a 4th axis control built in. Also flood and that is a BIG plus. I did spot one small capacitor that looks like it was going bad and replaced it. So far, it is a big glorified paperweight.
17 Oct 2015 05:51
#63855
by andypugh
steve_a wrote: So far, it is a big glorified paperweight.
The big bits are OK, (the castings and moving parts). Everything else is replaceable at moderate (or zero) cost.
17 Oct 2015 08:33
#63858
by MacGalempsy
Steve, After 2+ years of having this "paper weight" in my garages, I just want to encourage you to stay faithful. Since it appears we have the same unit, my efforts of backing out all the wiring will benefit you greatly because that part alone took a few months. All said and done, if all that is bad is the PC interface card, then for the price of a few Mesa cards you will be up and running. The only things I ended up replacing were things I fried, PID tuned incorrectly, broke, or was already broken.
Fresh Boarder
17 Oct 2015 11:54
#63861
by dynamyte24
MacGalempsy wrote:
I am curious if you guys running the factory software have been able to come across PID values for the X/Y/Z axes?
Mac, if you have a copy of the user's manual (34-7713-0001 dated 11/98) you have the same info I've got.
There does not seem to be any drive tuning info within the software that I have noticed.
I would really like to get my hands on the schematic for my machine (Ser# 021-55AE-0184) . It's pretty busy in the back of the machine!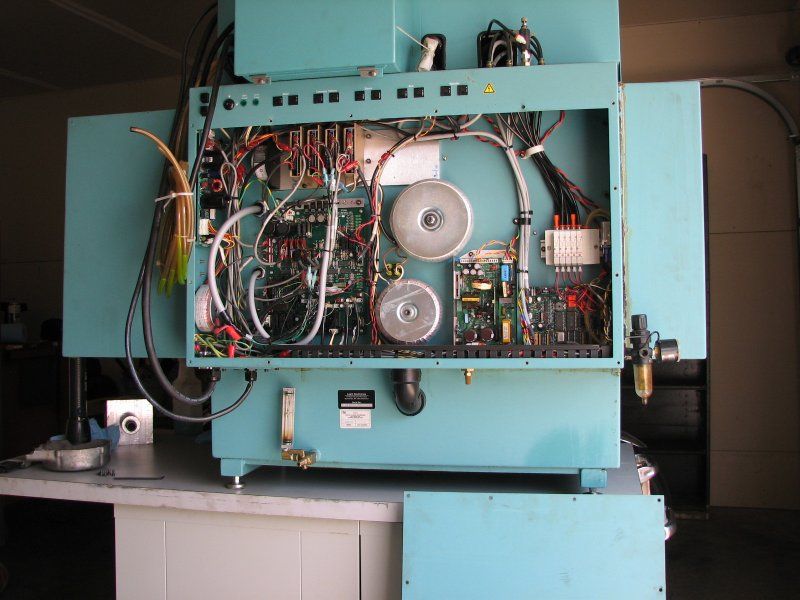 I had been fighting an alarm which turned out to be the Renco encoder on the SMW 4th. After much Googling and phone calls and emails,
the folks at
www.encoder.com
got me set up with a replacement.
Rex
18 Oct 2015 03:52
#63887
by steve_a
Hey Mac. I have the computer with the original software. I think there is a config program for the Benchman. I didn't mess with it but I THINK there was some motor information. I'll have a look at it on Monday. I'm not sure it had any PID info but I wasn't actually looking for it so I might not have noticed.
You sound like you are well advanced in the process and I believe you are right with the Mesa combo being the way to move forward. Did you replace the servo drivers? My initial thoughts are to try to keep the power supplies, servos and motors. I will also keep the tool changer pneumatics but will probably need to develop a controller to handle some of the operations. My first goal is to get movement and spindle. Do you have those working?
18 Oct 2015 06:19
-
18 Oct 2015 06:21
#63888
by MacGalempsy
Steve,
The servo drives have been a challenge to tune properly. If you can come across the original PID values, that would help out tremendously. A brief chat with Copely Controls a while back left me with the impression that the drives were specially tuned. Others who have used Copelys in the past said they shouldn't tune any differently. I have contemplated getting new drives, but wanted to try and get some PID FF0/FF1/FF2 values from someone before buying new drives. Ultimately, new amps may be the best way to go, but I was trying to keep costs down.

My machine also came with a SWM 4th axis, so when you are in the parameters, try to get the numbers for everything!

If you want, let's find some public place to post files. I have a ton of technical specs and other stuff from the last few years of digging.
Last edit: 18 Oct 2015 06:21 by
MacGalempsy
. Reason: Saw the pic was not Steve's
Fresh Boarder
19 Oct 2015 02:55
#63905
by dynamyte24
Digging through the documentation package that came with the XT, I found a 20 page "Addendum: Control Program Version 2.0".
The addendum detailed how to access the servo parameters.

The X-Y-Z servo parameters are the same:

Kp 40
Ki 2
Kd 70
Kv 80
Kvff 80
Follow Error .1
SPU 50,000
Int Range 40
Accel 20
Decel 20


"A" (rotary) axis servo parameters (SWM RT 5C):

Kp 40
Ki 2
Kd 80
Kv 80
Kvff 80
Follow Error .1
SPU 40,000
Int Range 40
Accel 20
Decel 20


Spindle parameters (45,000 rpm spindle):

Kp 10
Ki 10
Kd 40
Kv 0
Kvff 0
Follow Error .1
SPU 8000
Int Range .1
Accel 50
Decel 50


I also found CDs for the control programs V2.0.4, V2.0.9 which are compatible with the ISA NextMove card, and V3.0.10 which is for the
PCI card. There is no 3.5 floppy for the machine specific configuration files.


Rex
19 Oct 2015 04:32
#63907
by MacGalempsy
That is fantastic! Nice to know my numbers were not too far off. I am curious about some of the other numbers other than the PID, but that will help tremendously.l
19 Oct 2015 10:10
#63913
by steve_a
WOW! Thank you dynamyte24! Good information to have! I will check mine tomorrow, if it is there, and see how they match!
Mac.... you brought up something I had not really considered before... PID tuning... I am rethinking the Mesa controller and think I might go with a Kflop/Kanalog system as they seem to have more support when it comes to PID testing. Might make it more attractive in a re-sale situation. Not really thinking of resale but hey, 20 year old Bridgeport mills still sell because there are no barriers to use them. This thread rocks!
19 Oct 2015 16:42
#63928
by andypugh
steve_a wrote: I am rethinking the Mesa controller and think I might go with a Kflop/Kanalog system as they seem to have more support when it comes to PID testing
Are you sure about that? You might be looking in the wrong place.
The Mesa cards don't do the PID loop, that happens in LinuxCNC. This has the advantage that you can "watch" the controller and see exactly what it is doing. It has the potential disadvantage that it isn't a super-fast PID loop, running typically at 1 or 2 kHz.
(There will often be a hardware loop in the drives controlling motor current, I am only talking here about the position loop)
If your drives take velocity input from the motors then there is also a hardware velocity loop. In this situation a 1kHz LinuxCNC position loop is more than adequate.
Are you aware that Kflop is an alternative to LinuxCNC, ie, not something that you can use _with_ LinuxCNC?
Time to create page: 0.095 seconds