4th Axis Build
13 Oct 2016 14:15
#81606
by Lcvette
Lcvette replied the topic: 4th Axis Build
This is an awesome build! I am wanting to do the same thing and have been shipping harmonic drives. I've been trying to decipher the connections and this thread was very illuminating, thank you very much for shading your project!

The united I've been looking at are different, they appear to be a housed unit with a cross t roller bearing. Was hoping to use it as one side of the bearing sports and a roller bearing on the other side. Any insights as to why you used the type of harmonic drive you used?

Also any feedback of how everything is working or notes on things you would do differently?

Thanks in advance!

Chris
Topic Author

Senior Boarder
13 Oct 2016 14:40
#81609
by Dale Lusby
Dale Lusby replied the topic: 4th Axis Build
Hi Chris,
I used this type of harmonic drive as there was one on eBay at the time at a decent price. I've bought others recently to use for a 5th axis which is different and same reason as it was available at decent price. It has worked very well and I've been happy with the speed and holding power. I only have CAM ability for running 3+1 so no 4th axis continuous machining. I hope to upgrade software soon and be able to get more use out of it.

One thing I would have considered changing would be not using a threaded spindle however it hasn't unscrewed as of yet. It was mere convenience to go this route as one of my lathes has the same spindle nose. I also still need to take this to my grinder and grind the collet taper on the inside of the nose so I can use ER40 collets. I will probably do that his winter.

Let me know if you have any other questions I can help with.

Dale
13 Oct 2016 17:37
#81619
by Lcvette
Lcvette replied the topic: 4th Axis Build
That is encouraging to hear it's working out!! Do you know which model you used in the 4th build? I am looking at the 25-100 servo actuator units which have a torque rating of 75Nm and have a 100:1 ratio. They are hollow core type units that direct drive the harmonic drive with a built in encoder., they are reasonably affordable considering they come with the servo and drive, I've found then sound $500 from time to time in great shape and as mentioned have the cross roller bearing support which will make the rest of the design a little easier to work with and the over all length of the unit more compact.

I need to do some further research on appropriate drives for them still, some are listed but I'm not sure if they are CNC type of more automation type drives.

Very cool gadgets to be sure and your build is very impressive! Do you have any YouTube videos of your build in action, would love some inspirational viewing media!!

Chris
13 Oct 2016 22:14
#81626
by Lcvette
Lcvette replied the topic: 4th Axis Build
andypugh wrote: The FHA look like they make a rotary axis almost too easy.
I know right! That was exactly what I thought where I saw it.. I just received a step file of the FHA 25-100 e250 which looks perfect for an 8" rotary table build. If you would like a copy let me know! Email
This email address is being protected from spambots. You need JavaScript enabled to view it.
.
Chris
14 Oct 2016 04:58
#81634
by Lcvette
Lcvette replied the topic: 4th Axis Build
I whipped this up, it is an 8" Rotary Table design, it isn't finished, but it works out to be 4 parts, the harmonic drive, the frame casting, the table and a cylindrical roller bearing for table support right at the frame edge behind the table. the thrust load will be on the cross roller bearing in the harmonic drive to keep things compact. depth from the table face to the back face of the harmonic drive is 6" pretty good. from the table face to the back edge of the frame casting is 5". I think this is about as simple of a design as you could have, the table would be made from a solid casting and machined to finish. it bolts directly to the harmonic drive so no slop can be introduced into the system. the only backlash in the system will be what the harmonic drive has in it which should be very very low. I think this is a winnder! Thoughts?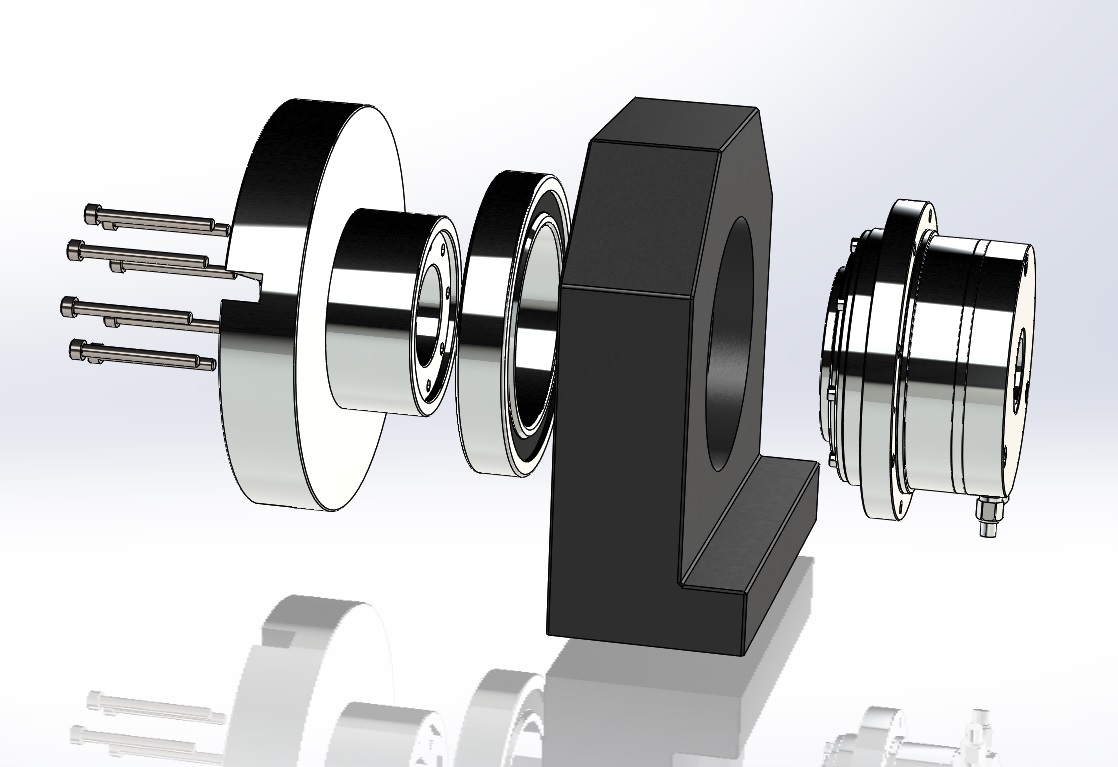 14 Oct 2016 09:12
#81636
by andypugh
andypugh replied the topic: 4th Axis Build
What is your lathe spindle nose? (assuming you have a lathe). If it is camlock then you could consider adjusting the T-slot number to fit camlock pins between them. (you could have a loose spigot for centering).
Consider tool access to the work for small diameters too.
You might want to copy your milling machine spindle taper in the centre of the rotary. You can then hold smaller work in collets easily.
This is a real-world 4th-axis job
I had to use an overlength piece of stock to get the tool to the work. Often you are likely to end up with a small spigot on the stock held in a collet just to get tool access to the end.
Time to create page: 0.337 seconds