Rods "Spaceship" Scratch built Plasma Cutter build
Platinum Boarder
13 May 2017 09:08
#93126
by tommylight
tommylight replied the topic: Rods "Spaceship" Scratch built Plasma Cutter build
More toys!

Table looks nice.
The following user(s) said Thank You:
rodw
13 May 2017 09:23
-
13 May 2017 09:23
#93127
by rodw
rodw replied the topic: Rods "Spaceship" Scratch built Plasma Cutter build
Thanks Tommy, time will tell if it does the job.

I forgot to say I also purchased a touchscreen on Friday as well. I grabbed an Acer T232HL and it just worked in Linux Mint with no configuration at all. And perfect calibration too!
Last Edit: 13 May 2017 09:23 by
rodw
.
14 May 2017 03:27
#93171
by rodw
rodw replied the topic: Rods "Spaceship" Scratch built Plasma Cutter build
Hmm, note to self... Never hit a CNC machine with a hammer. To fit the gantry to the end pieces, it was pretty tight so gave it a good few belts with a heavy copper dead blow hammer. It loosened every bolt in the whole assembly so I spent an hour or so reassembling it last night when all I wanted to do was do a little bit of wiring.
This morning, I got the remote pendant jogging all axes.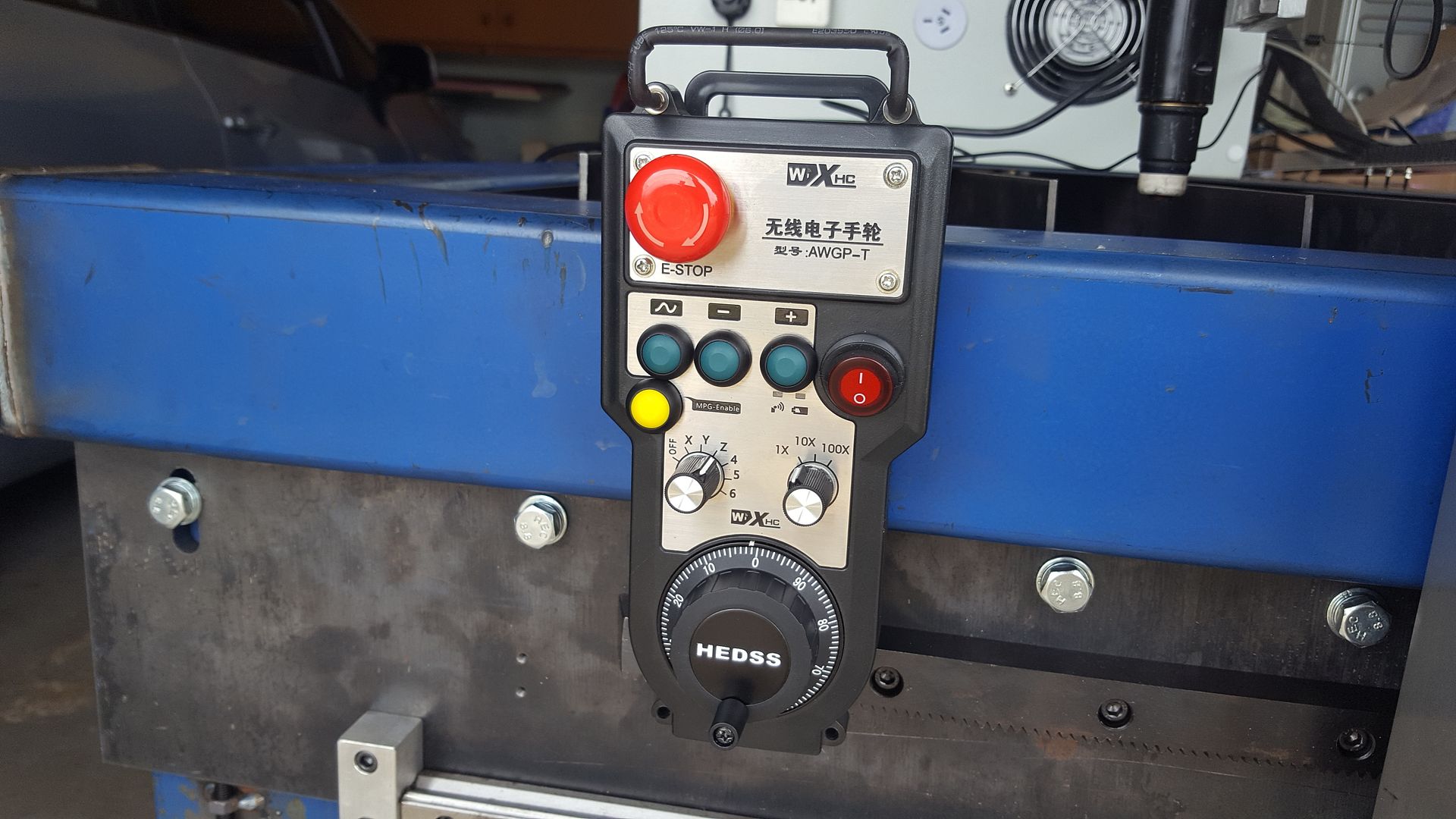 This is a bit of a cut above the wired and USB ones as it has a dedicated receiver and external antenna that wires in to the control box.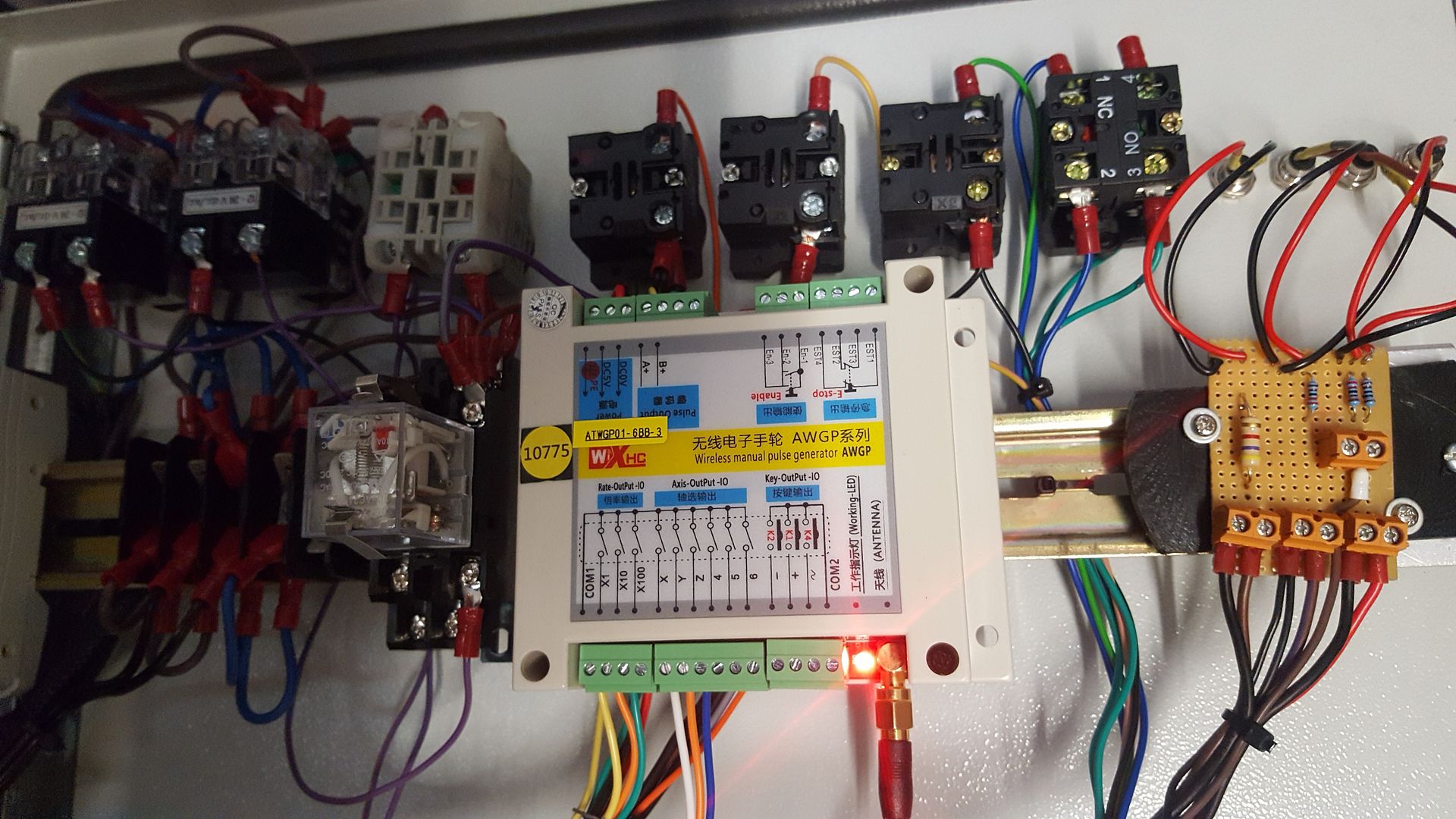 I specified that the axis selection and scale switches use binary outputs and the scale switch slotted straight into my mux4 code posted earlier in this thread. That code does not use an axis selection switch though. Whilst I could have used another mux4 to select just the X, Y & Z axes, to get the full 6 axis selection, I needed 3 bits of input. I was not really sure how to take this from 3 bits to a single enable bit per axis but after a bit of reading, I came up with a pretty simple solution. select8 is a component that does exactly that. It takes an S32 input (from 0-7) and turns on a bit output for that number which can be used for axis.n.jog-enable. So I used a mux8 component to decode the switch into a number between 0 and 7. Then convert the output from float to S32 and send the result to select8 which in turn enables the relevant axis.
Anyway it all worked perfect. I am going to play with ilowpass as the motion is a bit jerky but there is an example in the docs on how to do that.
Who would have thought I could work out a solution on my own a few months ago?
I still have to connect up a few more pendant switches and the estop button but that should be relatively easy from here. There are 3 custom buttons, and the estop relay.
One thing I don't understand is an e-stop chain and how hal treats it. I need to get my head around that.
Gold Boarder
14 May 2017 04:21
#93175
by racedirector
racedirector replied the topic: Rods "Spaceship" Scratch built Plasma Cutter build
Nice work matey, you'll be cutting in no time.

Do you have a link to that pendant? Love the look of it and might replace my other wireless one.
24 Jun 2017 11:31
#94883
by rodw
rodw replied the topic: Rods "Spaceship" Scratch built Plasma Cutter build
Geez, its been about 6-7 weeks since I have done anything to my table. I've been unwell and have had a couple of stints of day surgery. Last weeks exercise was to do a biopsy of something on my vocal chords and I'm sure it was just an exercise where the doctors pass you round among their mates until they shake all the money out of your pockets. It wsw benign of course! I've also been exceedingly flat out with my online store that started as a hobby 8 years ago and has recently taken off so I've been building new strategies for it to keep it pushing along.
Anyway, I spent the morning machining some parts for a customer so I thought I might as well make a day of it so I spent the afternoon working on my plasma table again.
I shortened and refitted the cable tray at the rear of the gantry, Added a metal cable cover for the half that is not in a cable cage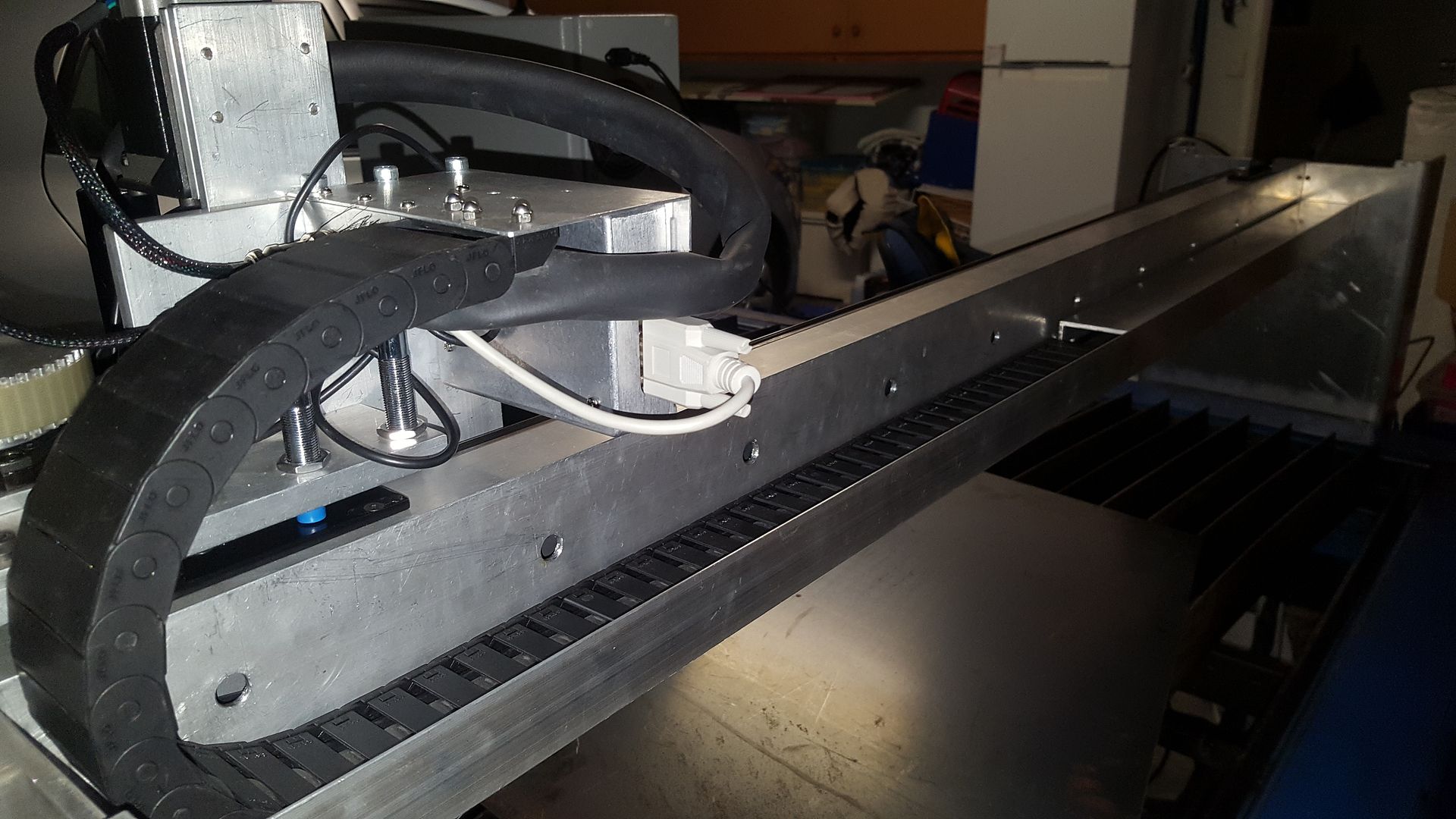 I also got the two gantry motors fitted up on the linear rails and tracks. I had to get some parts powdercoated during the month so I sent out my limit switches and adjustable feet while I was at it. A real Henry Ford Affair. Any colour as long as its black!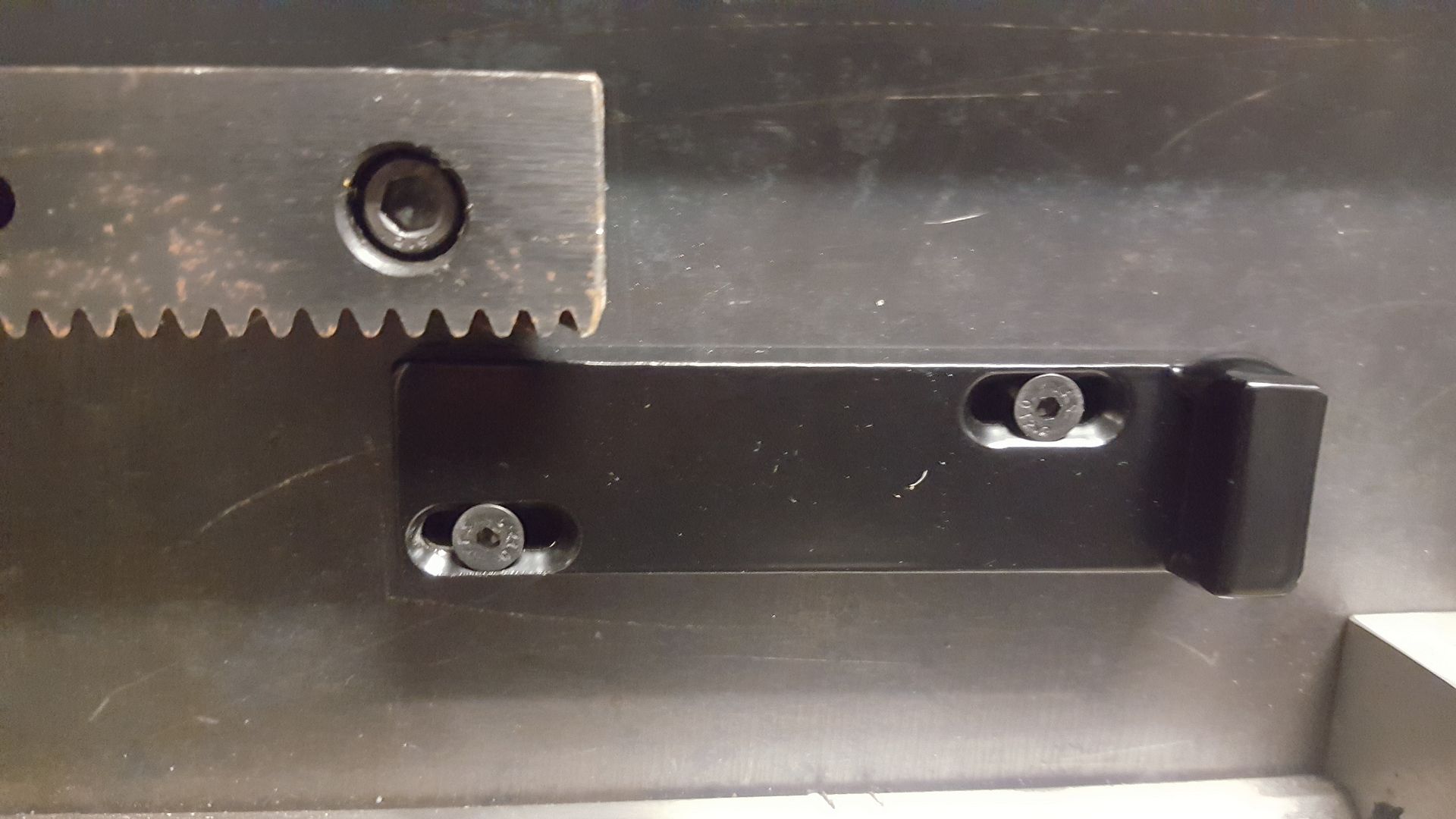 Anyway, it moves:
It did not move far as I had the electronics enclosure sitting on the table and I don't have the limit switches wired up yet.
Of course, with all of the stuffing around with wiring, I had knocked one of the wires off a stepper controller and it took a little while to work out where the trouble was so I nearly broke it on the first attempt.
So about the only thing left to do is to mount up the 6 limit and home switches for the table. Only 18 wires to go! There is still an enormous amount to do as I have not added any connectors to the control box yet. I also have to mount up the laser cut braces that will connect the gantry ends to the gantry rail. Some of those have not worked out exactly as I expected so I'm not sure how that will go.
25 Jun 2017 07:41
#94911
by rodw
rodw replied the topic: Rods "Spaceship" Scratch built Plasma Cutter build
I got a bit more done today. Got the Gantry ends braced up.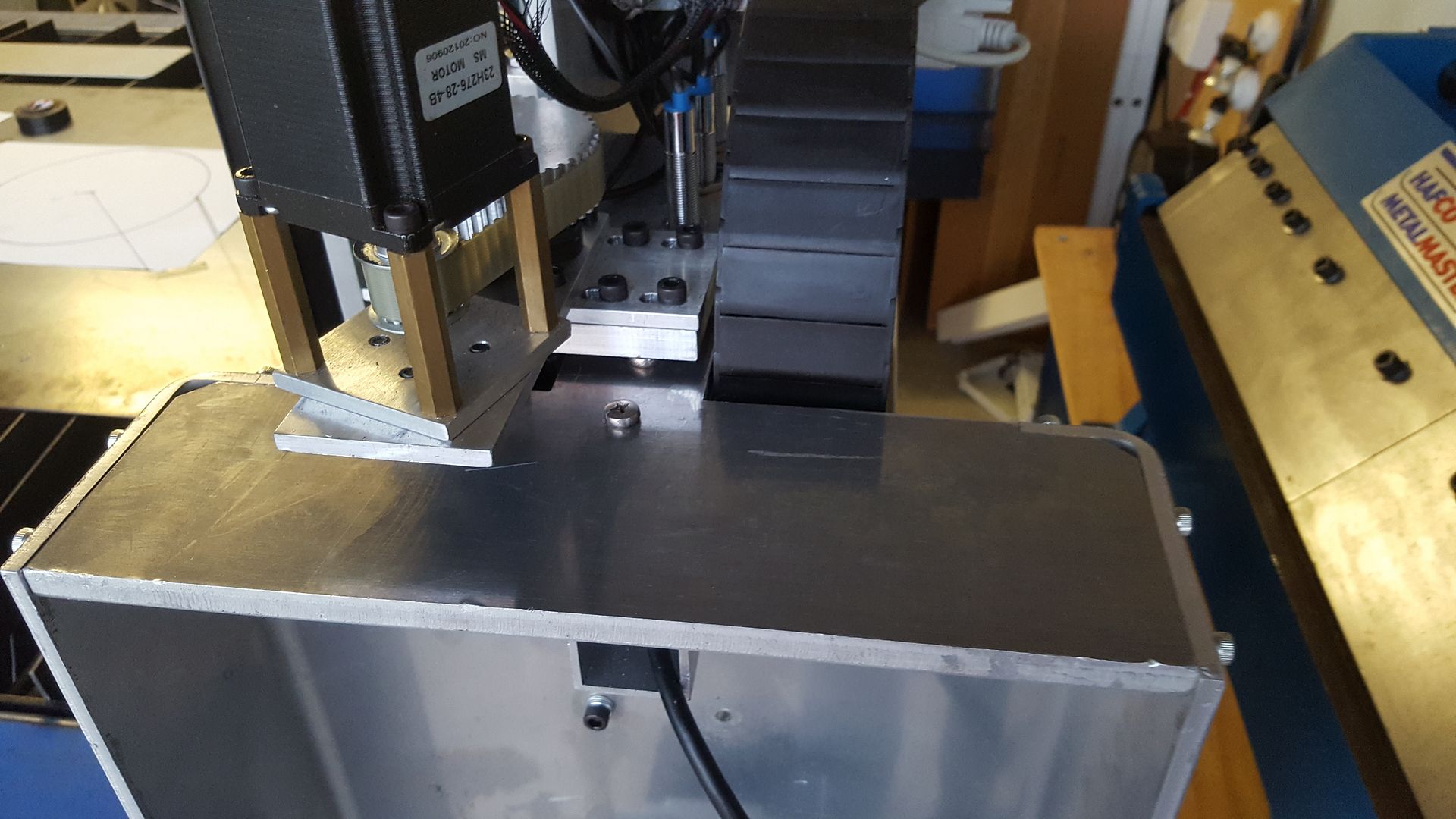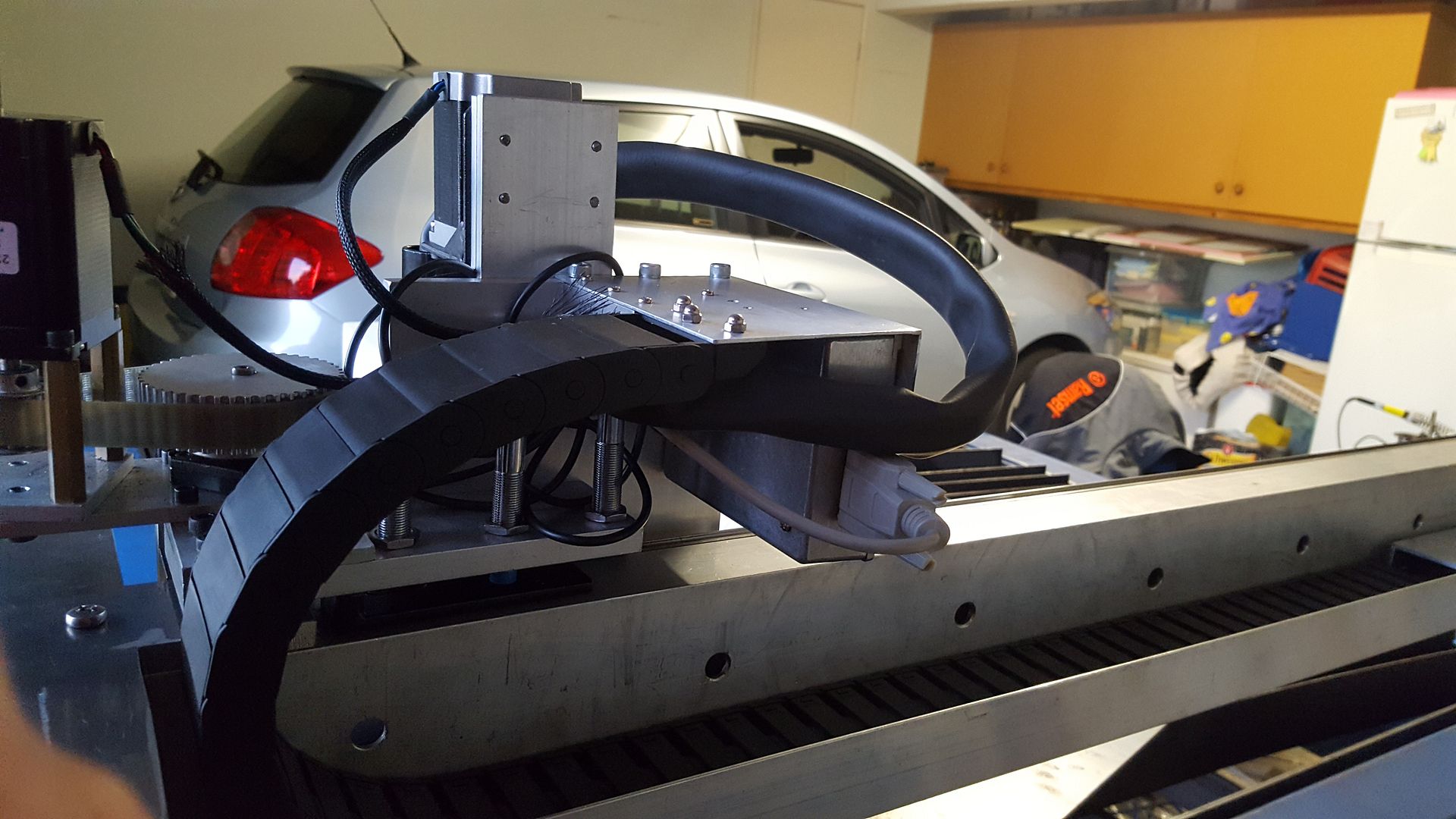 I tested the movement of the gantry ends with a dial indicator under acceleration and it seemed OK. Then I taped a felt pen onto the torch and drew a circle. Not perfect but the pen was flexing like crazy so I am sure it is going to work out nice and accurate.
I've got one more part to modify and the limit switches to wire in and I might even be able to cut something!.
Somehow I've lost 3 proximity sensors so I am short on limit switches which is very annoying. Hopefully they will turn up.
Time to create page: 0.175 seconds