Prototrak Plus Retrofit with Mesa 7i77 & 5i25 cards
27 Feb 2017 16:09
#88677
by new2linux
andypugh many thanks, I used a power supply that is variable, started low, went to .5 v
27 Feb 2017 16:11
#88678
by andypugh
Errr, _where_ is this power supply being used?

(And where is the multimeter connected)
27 Feb 2017 16:29
#88680
by new2linux
I did them 1 at a time, used power supply and multi meter on DRV 0 (used temporary jumper) to card. Started with power supply very low, used fine setting.

many thanks!!
27 Feb 2017 16:41
#88681
by lakeweb
Hi new2linux,
Note that I wrote: 'Then you can touch it to the unplugged drive input of the amp and the motor should move.' This test is meant to happen without the 7i77 involved.I looked back and was pretty sure you never posted what servo amps you are using. Please do so. A link to the PDF manual for the amps. You said you had 'smoke', and I was pretty sure you were talking about the amps. I'd like to see you confirm the servo amps are working before moving on. Once it is confirmed that DROs and the servo amps are working then it is time to see if the 7i77 will move the motors.

Best, Dan.
27 Feb 2017 17:05
-
27 Feb 2017 17:13
#88683
by new2linux
Many thanks lakeweb! The system is a Prototrak Plus. I think it works like this (please comment if not correct) the 7i77 supplies a small amount of current (the .5 v) going to the power supply servo cards (I think is 48vDC max) and the power supply (on high power power side) puts out up to 48 vdc to servo to make them turn.

The DRO works, I believe the correct direction and approx calibration correct.

There is not a lot of info in prototrak manuals. I will look for link.

Edit: This is the link:http://www.southwesternindustries.com/media/manuals/24923_manual.pdf


many thanks!
Last edit: 27 Feb 2017 17:13 by
new2linux
. Reason: add link
27 Feb 2017 17:47
#88686
by lakeweb
Hi new2linux,
The pdf doesn't spec the servo amp. I take it you don't have there pendent. If this is a standard driver, the input will be +-10 volts, maximum. This voltage has nothing to do with the power supplied to the motors, it just tells the amp to move the motors. Don't think in terms of current for this input, it is purely a voltage sensor. That is why a dead battery will make it work.

Find a make and model number for the 'motor driver module' shown in the pdf on page 68, (pdf page 72). Let me know what that make and model number is.

You must have more than that pdf if you are wiring your own controller.

Best, Dan.
Platinum Boarder
Platinum Boarder
27 Feb 2017 18:02
#88688
by Todd Zuercher
You nearly had it sorted way back right before you blew it all up. I thought that you had tested the (old) drives with a small voltage to the command inputs and you were able to make the motors turn, before the miss-wiring mistake. This is the same test that Dan is suggesting. You need to get every thing back to the point you were before the disaster. What parts have you replaced? You need to confirm that those new parts and any old ones are ok and working (ie wired up correctly this time) before you are ready for the Mesa hardware to control them.
27 Feb 2017 20:21
#88706
by lakeweb
The 7i77 output comes from an MC33179. These have current limiting drives. So if he didn't drive it past the rails, it is probably ok. At that, there are still five more outputs and he is only going to use three.
28 Feb 2017 13:25
-
28 Feb 2017 13:34
#88725
by new2linux
Many thanks again to tommylight for an outstanding "
forum.linuxcnc.org/10-advanced-configura...ning-detailed-how-to
" Servo Tuning how to! Just a great job, many thanks!
Many thanks to andypugh, Todd Zuercher, and lakeweb for all your great help!
I have carefully followed tommylight's direction, I was not able to jog (this is the "-" "+" buttons, then a "continuous" flyout tab) ether servo. If you apply 1.4 to 1.5 v (must be in this range, started low and went until servo moved) to servo amplifier coming from TB5; DRV 0 & DRV 1, each servo will turn at low speed. When you turn and see "DRO & HAL Conf" change value, until error in AXIS "joint 1 following error" and then the DRO stops working.
Attached are the screen shots at the point I stopped.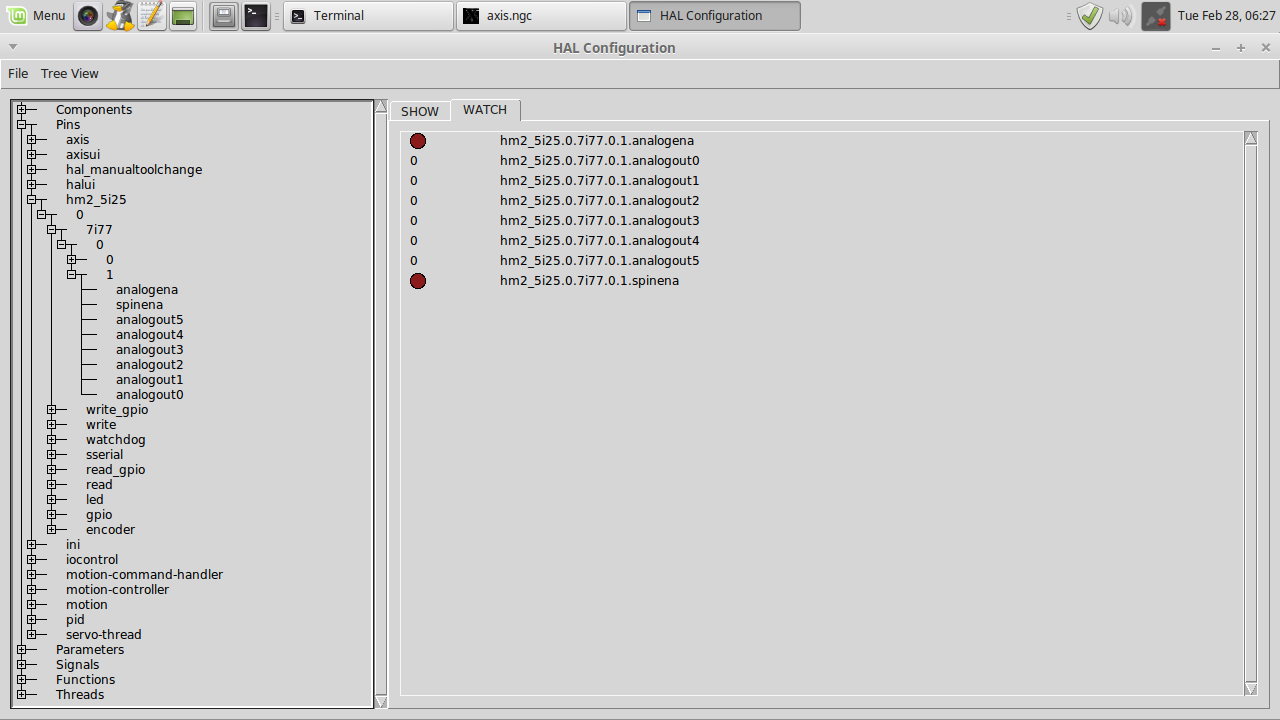 The tree structure is not exactly the same as the example.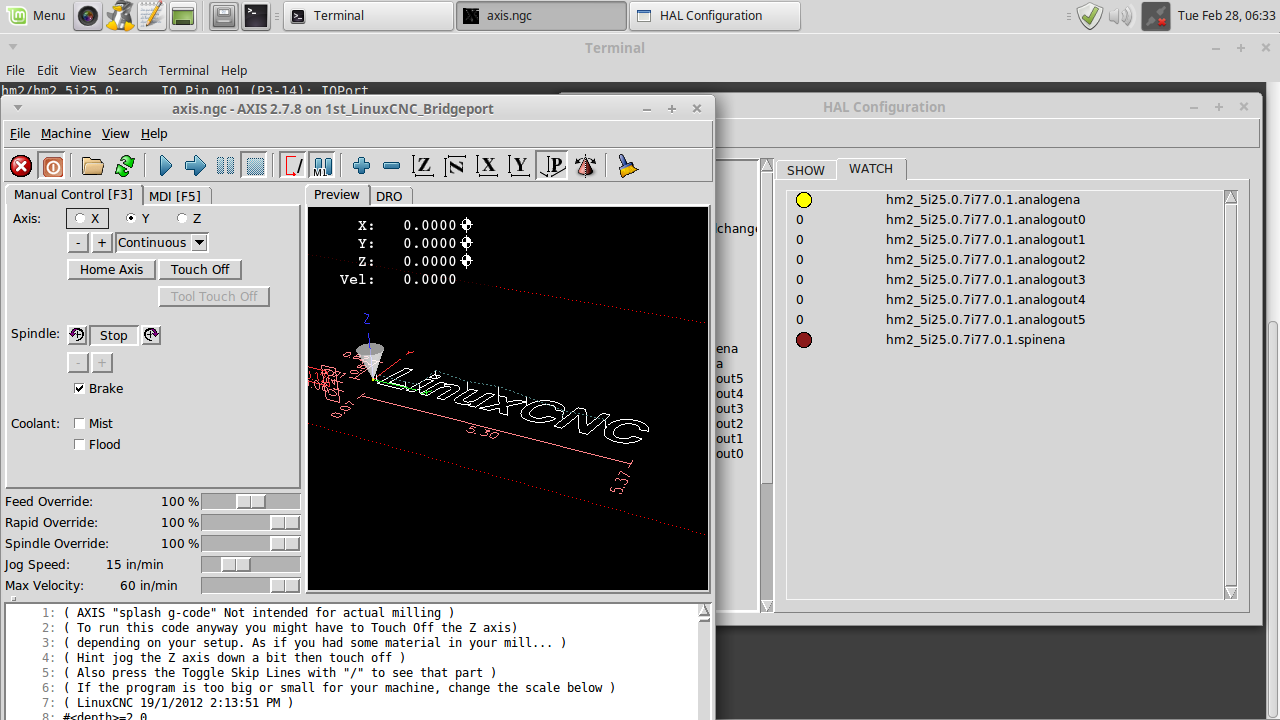 Any suggestions would be warmly welcomed.
Many, many thanks!
Last edit: 28 Feb 2017 13:34 by
new2linux
. Reason: clearify
Time to create page: 0.152 seconds