Prototrak Plus Retrofit with Mesa 7i77 & 5i25 cards
16 Feb 2017 15:38
-
17 Feb 2017 12:30
#88055
by new2linux
Many thanks PCW and tommylight! I have read New Eagle's (lakeweb) conversion and used the meter to see if current was at (TB5) DRV 0 at pin 1 and 2. I used the meter between pin 1 and 2 and get a very small, but noticeable movement in the needle, on lowest scale 1.2v it reads 0.3v very small movement.

I have tried several settings in the pncconf wizard, have never had motor run yet in the "open loop test" or "test/tune axis".

All of the drives and power supply are off the mill and beside my internet computer as so to keep warm, do research and ponder (I know, too much pondering going on here) how to solve my errors.

Attached are files for .ini; .hal and dmesg. I can't help but wonder what it is to look for in the files except to be consistence in naming conventions starting with 0.

Any help would be greatly appreciated.
Many thanks

EDIT: The lights on the 7i77 card are as follows: CR1; CR3; CR6; CR7;=YELLOW CR16 goes from blinking RED to OFF and CR15 then goes blinking GREEN. DRO shows correct direction and registers motion (approx # of turns close, not installed in machine).
Last edit: 17 Feb 2017 12:30 by
new2linux
. Reason: add light info
17 Feb 2017 00:32
#88090
by new2linux
tommylight, if you were to give me the correct address for delivery and what you wanted from the takeout menu, I would hook you up!
tommylight wrote: Later, need lots of food.
17 Feb 2017 12:31
#88108
by tommylight
Sorry bro, fell asleep after two days of work with just 20 minutes of sleep in a car driving to a work site.
You should also follow Dan's thread as he is dealing with the same things on his machine.
Tuning will not work from pcconf, so make a config that roughly meets your needs, and save it. Tuning has to be done from Linuxcnc running.
First make sure you have encoders right, then servo enables working from Linuxcnc, one by one not all at the same time. Tuning also one by one drive. Never all at the same time.
17 Feb 2017 13:08
#88109
by new2linux
tommylight, you are 100% good with me, many thanks for ALL your help! I will follow your directions as well as with Dan. Just to show the current situation, I have 2 screen shots of the area that seems to have things I can't seem to edit, or just not completely shore how to edit. One of these screenshots is taken from "halrun" to access the screen in question. All the future edits are to be done in a "text editor" on .ini and .hal files after using wizard to get close as possible.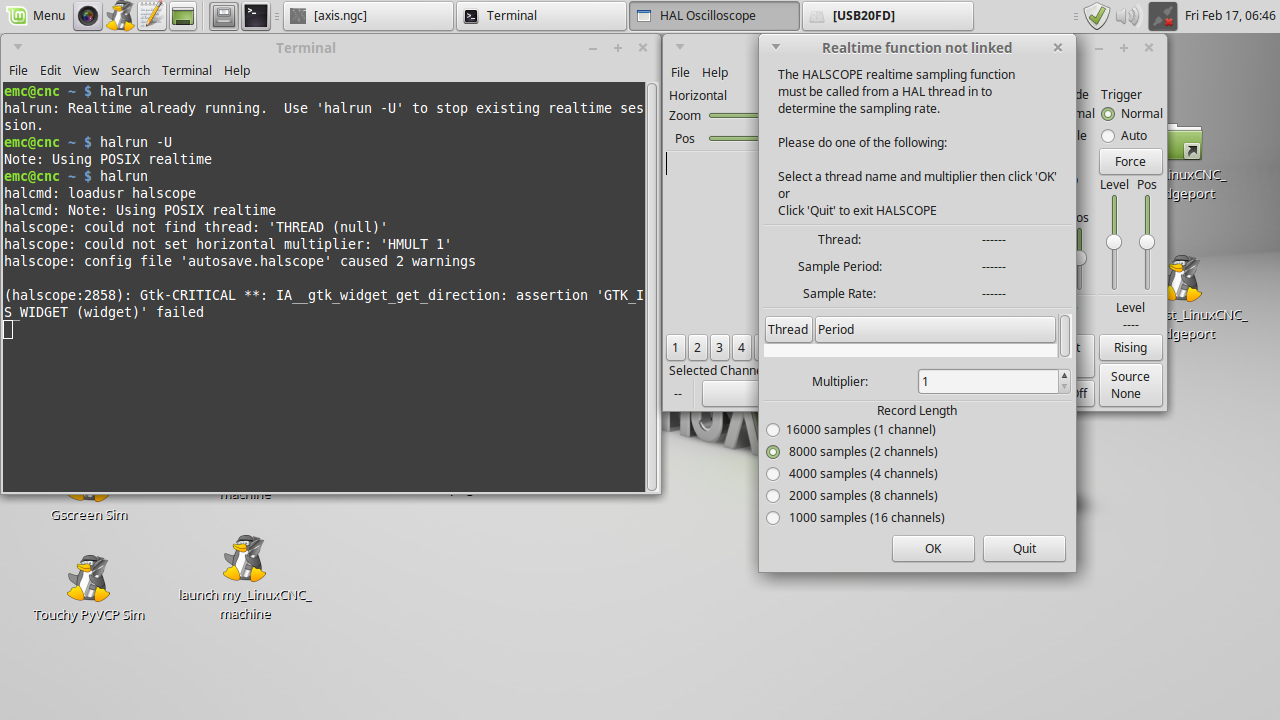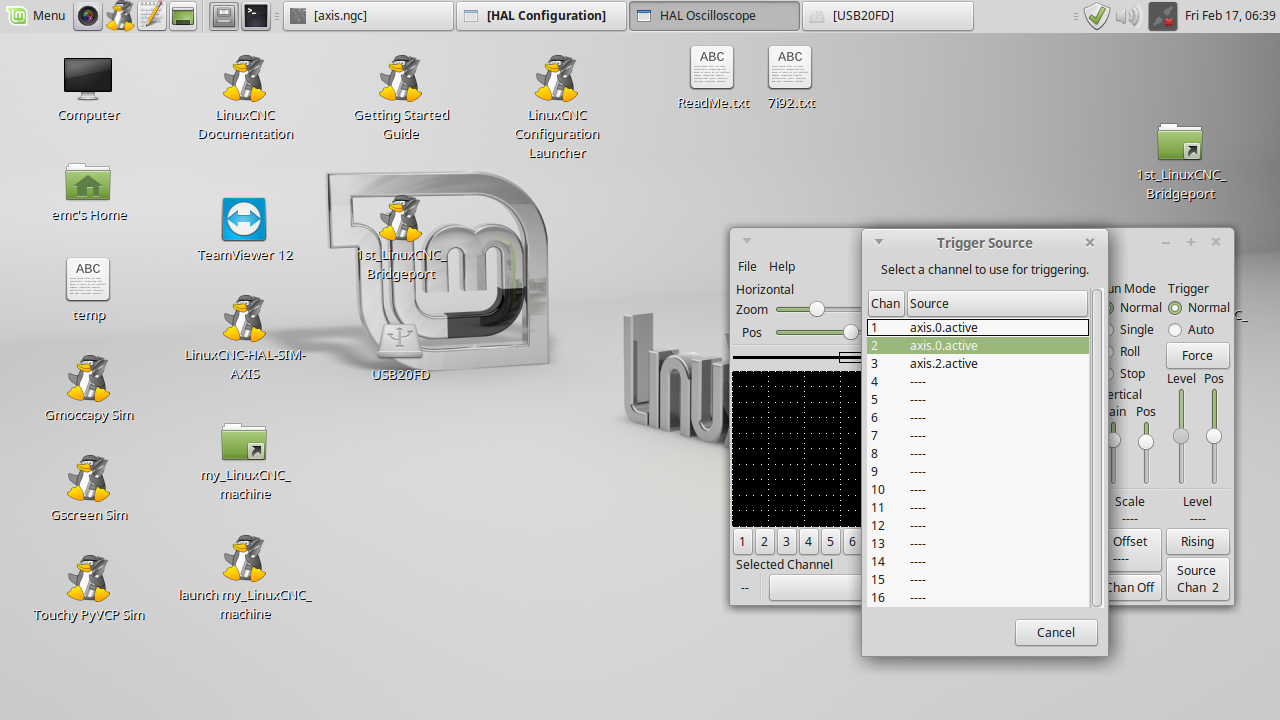 The Realtime function not linked screen needs the "Thread" "Period" (in the center of screen) needs to have some values in that area.
The other screenshot as the axis (2 axis are identical) I need editing (low to left of shot).
Many thanks for any help or suggestive reading to aid in my effort would be greatly appreciated!!
Platinum Boarder
17 Feb 2017 13:20
#88110
by Todd Zuercher
Halscope requires that a realtime thread is running, So to run it from halrun, there are a number of things that have to be set up first. The second screen shows that you don't really have anything running in hal to test. All that is taken care of if you start it from within a running Linuxcnc session.
18 Feb 2017 02:25
#88151
by tommylight
I am currently writing a detailed how to for tuning with use of halscope included, hopefully i will have a rough outline by tomorrow night. Need a lot of screen shots and other info gathered, i did some outlines and some preparatory informations tonight.
18 Feb 2017 14:59
#88168
by new2linux
tommylight, you are the best! a complete and total gentleman all the way thru! Many many thanks!
18 Feb 2017 19:09
#88180
by lakeweb
Hi,
I'm Dan, the Eagle conversion. I thought I would follow along here as I just went through this. Have you gotten LinuxCNC to launch yet?
Time to create page: 0.143 seconds