QT C++ code samples
13 Aug 2019 15:34
-
13 Aug 2019 16:07
#142034
by Grotius
Hi,
Thanks Tommy and OPW !!
We have good news today.
Did some extra work on the main window. Will update the icon's soon to new grotius made icon's
Updated the code yesterday for a ellipse. The ellipse is half drawed for now. The half ellipse is build up from multiple arc's what
is nice for a cam output !! This was a very long C++ code to write so far. It has ortho on and off included so far. Later on i will finish
the ellipse draw function and will look for the new ellipse chamfer function.
The opengl screen is now auto resize with the main window and has the screen ratio included.
The opengl timer is updated, i had a problem that the timer was somehow delaying the program after a few minutes. Like a overflow.
The widget margin's are up to date now. Margins are hard to find in QT. But now i know how to set them correctly.
We can draw at this moment :
-line (ortho on or off)
-line strip (ortho on or off)
-2 point circle
-3 point circle
-arc (very good arc function, above expections !)
-rectangular
-polygon with user defined segment's. A 3 side polygon is a triangle, a 4 side polygon is a nice square rectangle, with ortho on and off.
-half ellipse (builded up from multipe arc's, can be expanded to unique ellipse chamfer function)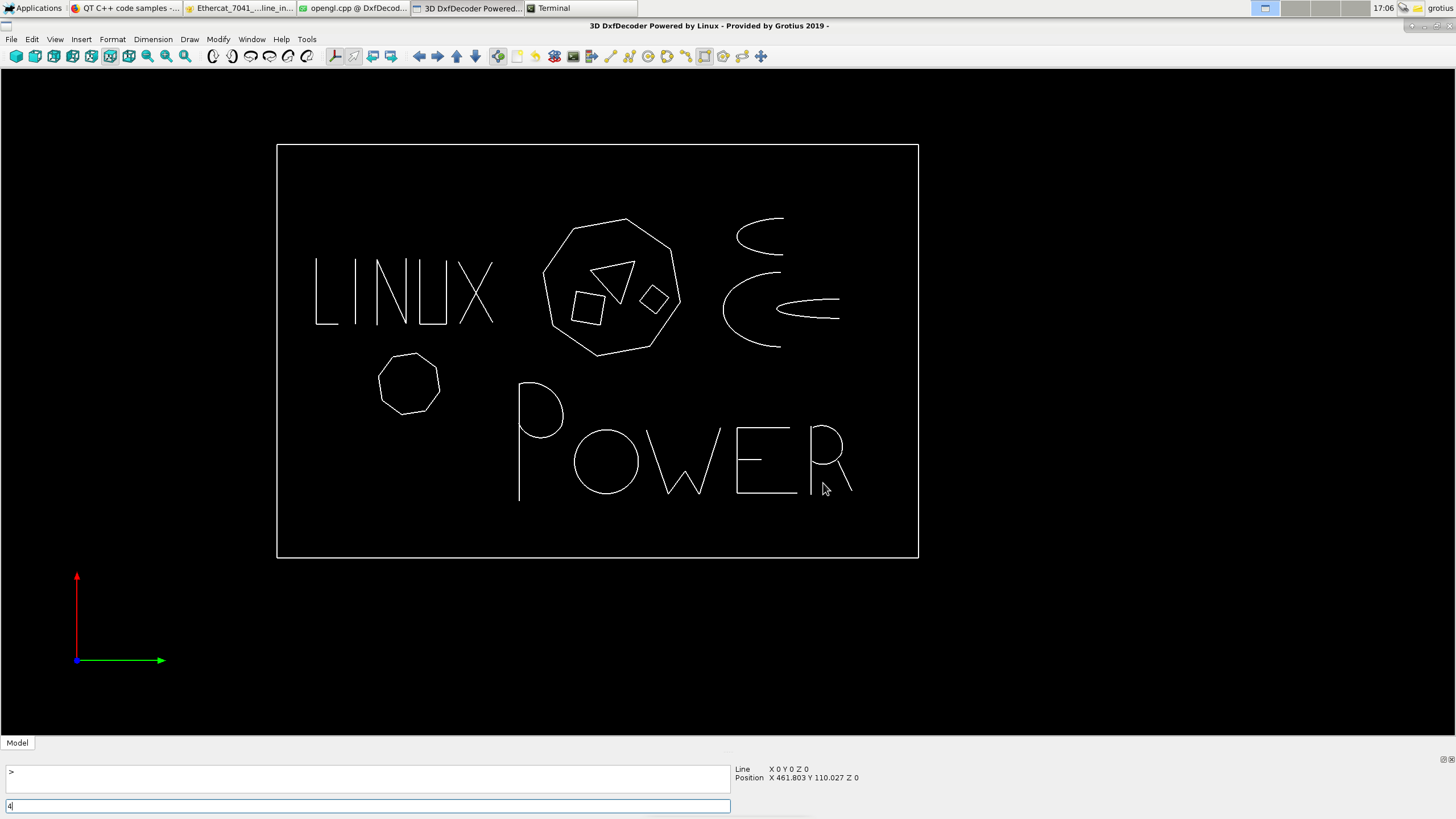 Last edit: 13 Aug 2019 16:07 by
Grotius
.
Please Log in or Create an account to join the conversation.
Moderator
13 Aug 2019 16:06
#142040
by tommylight
Hmmmm......your screen resolution keeps getting bigger and bigger !

Thank you for all the effort you are putting in it, and some other things, too.
The following user(s) said Thank You:
Grotius
Please Log in or Create an account to join the conversation.
14 Aug 2019 00:31
-
14 Aug 2019 01:49
#142098
by Grotius
Hi Tommy,
Thanks...
Resolution is a gamer screen 1ms. Very big indeed. But 45 watts. My old screen was consuming a lot of power....
This new screen, it uses the displayport. I had a problem. The screen did not show up.... Hahahaha.
www.lg.com/nl/monitoren/lg-32GK650F
I updated the debian kernel for this. Resolution more then 2500x1400.
On this forum i posted a how to link at a kernel testers topic for debian 9.
Related to the DxfDecoder, the name can be changed in something else. It's not a decoder anymore. This was the first step, at that time a nice name.
One of the next things to write in C++ is a object move and rotate function. The rotate function is quite easy. The move function is quite easy too. The object move and rotation function is in fact a preprocess step of the auto nesting algoritme. A good practice for a lazy sunday. I don't think we can write the nesting algoritme in one lazy sunday... Haha..

The rotate function is already used for drawing a polygone. The spline function we will not adapt coming time, i think this will take to much time to investegate. And a spline can be funest for Cam. Controlling a cad formed arc-strip can be a better option.
First finish the cad section, then update the cam section. Then provide a free cad/cam version. Must make a auto installer in the mean time too... Hmmm.. nice... I am no autodesk company... But almost looking at autodesk, one of the most richest company's ww. We have soon more exotic features then draftsight ( a autodesk product), i promise the linux users. Hhahahahaha. Just liking the way linux is going to defeat window's and autodesk in a few years from now.
For the cad section i will make also the following function's the coming time :
- snap to endpoint, midpoint, perpendicular intersection etc.
- trim and extend. ( extend a line without selecting a target is possible, this is also a new cad function )
- scale
- stretch
- fillet with radius
- fillet with ellipse (new, material reduction, perfect line's)
- chamfer corners
So a lot to do. But we have time. And it's not very difficult to code anymore. We know what we are doing bro...
Tonight I made some icon's with inkscape.. Inkscape is a nice free program !!!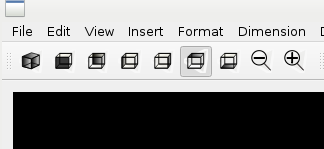 Last edit: 14 Aug 2019 01:49 by
Grotius
.
Please Log in or Create an account to join the conversation.
Time to create page: 0.113 seconds